Following up on
the 'Dolls on DVD' preview I finished the companion dvd disk set to "The Valley of the Dolls", namely "Beyond the Valley of the Dolls". It is presented in a curiously BLUE cas for some unknown reason. (I understood why "The Valley of the Dolls" was packaged in BRIGHT PINK.) There are enclosed reproductions of lobby cards in this set, as well.

What a bright and CLEAN transfer THIS is!! There's hardly a scratch or dust speck! Russ Meyer filmed in bold, nearly comic book strokes, which is just eye popping here! The transfer is in anamorphic 2.35:1, which sort of surprised me, as I didn't remember it being that WIDE! The soundtracks available are the original mono (yawn), Dolby 5.1 (which is NICE, though don't expect the sound to POP like the visuals) and French (mono). (Subtitles available in English and Spanish.) Having such a big (I am viewing it via a InFocus 750 projector, shooting at 96" diagonal) , clear copy, it provided even more fun and detail, even if this is the Nth time I've seen it. Though this also points out some of the 'flaws' or at least inconsistency in the performances, it also brings Meyers' kinetic editing style to full consciousness. It's a joy to watch it in this format!

Now, the extras!


First, the audio commentaries. There are two tracks here: one by Roger Ebert, Film Critic And Screenwriter Of Beyond The Valley Of The Dolls and a second by cast members Dolly Read, Cynthia Myers, Harrison Page, John LaZar And Erica Gavin. Roger Ebert's is a highly academic and surprisingly eye opening analysis (nearly frame-by-frame!) of the film. He actually adds a LOT of information as to why this presumably abortive attempt at camp actually WORKS! His dedication and awe of Russ Meyers is something to be admired. The commentary itself is quite educational and lacks that 'over exuberant camera-whorishness' that Ebert sometimes falls prey to on video. Having him behind a mic and analyzing this film is quite pleasurable and I would hope he would do more of it.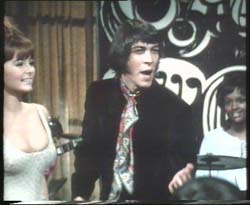 "The cast member commentary comes off more like a screening party than anything truly informative. They are thoroughly nostalgic about working for Meyers and have a really good time watching themselves from over THIRTY FIVE years ago. Their interviews in the supplement featurettes are much more productive.

There are five featurettes, all shot for this special edition, which could have been presented as a single feature, with chapter breaks, seeing as the sum total of time is less than 90 minutes. They are:
"Above Beneath and Beyond The Valley: The Making Of A Musical-Horror-Sex-Comedy" which is a standard 'talking heads, talking about the making-of' set of interviews. However, they are all quite happy to be there and what it might lack in depth, compared to Ebert's commentary (not to mention his fascinating comments on the development of the 'twist' involving Z-Man), it makes up for curiosity, in seeing how the 'gang' has aged.


"Look On Up At The Bottom: The Music Of The Dolls" focuses primarily on the music. (duh!) It has a few interesting bits about how the score was written and recorded, and the coaching that the cast was put through to lipsync it. There is also a fascinating tidbit about the different voices between the film's soundtrack and the soundtrack that was released on lp/cd.

"The Best Of Beyond" is a REAL fluff piece in which the participants are asked about what were "the best..." (fill in the blanks) moments of the film and filming, i.e. best bosom, best kiss, etc. Eh.

"Sex, Drugs, Music & Murder: Signs Of The Time, Baby!" places the film in its historical context. Here is where it might be taking itself a bit too seriously, or perhaps I am being dismissive. However, even Ebert is interviewed in addressing the Tate-Lobianco Murders as being part of the inspiration of the blood thirsty finale.

"Casey & Roxanne: The Love Scene" is an extended interview with Cynthia Myers and Erica Gavin about their BIG lesbian love scene. This is purely for those who share in Russ Meyers'... fixation.

Screen Tests Of The Stars. Viewed opposite the screen tests for "Valley of the Dolls" these people come off as amateurs. However, you can plainly see what Russ Meyers was looking for. I think. Personally, I'm sort of curious as to who did NOT get hired!

6 Photo Galleries With More Than 300 Photos: These are actually more interesting than most photo galleries as there is a great deal of behind the scenes coverage.

Teasers and Traliers, of course.


Overall, it is really terrific that 20th Century Fox was willing to put this out there along with "Valley of the Dolls"! Though this is not necessarily as classic of a film, nor as thorough of a special edition, as the original "Dolls", if you are at ALL a fan, then you know you MUST have this! If you are thinking back in curiousity what all the hub-bub is about, then give it a rental, because the transfer alone is like rediscovering it!