Sony Pictures has been TEASING us with the release of "Volver" (dir. Almodovar, Spain, 2006, 121 mins.) since AUGUST!! The word of mouth from Cannes was that this was Penelope Cruz's next Oscar nomination and a brilliant return of Carmen Maura into Almodovar's ensemble. Well, the tease is more than paid off by one of Almodovar's most effective if not brilliant screenplays, as well as truly excellent performances from Cruz and Maura.


As is his tradition, the screenplay is ultimately about sex and death. There is a macabre start that borders on farce. But that is only the beginning of a potpourri of styles, twists and turns. It is farce, thriller, ghost story, family melodrama and ultimately, a sentimental story of love, reunion and departure. If anything, his shifting in mood might be confusing to some, but it is in the climatic revelations that the piece ties together without a condescending explaination of the cosmic and psychological connections which haunt the family who is it's primary subject.


The cast is made up of four generations of actresses, all playing members of a single family. (There is a single male in the cast, however... I wouldn't want to SPOIL it!) Cruz and Maura play mother and daughter. However, their physical and karmic relationship is craftily performed remotely from each other. Lola Duenas and Yohana Cobo play Cruz's sister and daughter respectively, as well as being caught in the middle of the primary relationship of the film.
Blanca Portillo, who holds the key to the mystery of the piece, also provides the cathartic moment which will bond mother and daughter. Chus Lampreave gives an unexpectedly comic turn as the ELDERLY great aunt of the piece.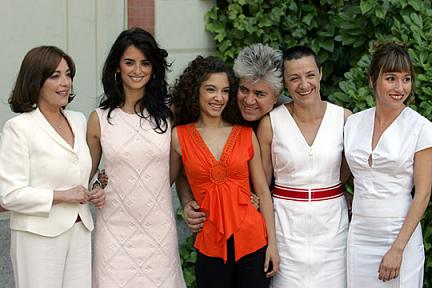 I would love to see this again and observe the screenplay and performances to appreciate the forethought and foreshadowing that Almodovar has plotted! I LOVED this! Of the Foreign Language submissions for the Oscar, I think this could easily be a shoo-in for a nomination, and quite deserving of the award itself. To borrow the Disneyfied phrase, "It's an instant classic!"