The Atlanta Film Festival continues at its 'official venue', the Landmark Midtown Art Cinemas. Today features a couple of my FAVORITE (extremely!) indie directors!


"Hannah Takes the Stairs" (dir. Joe Swanberg, USA, 2006, 83 min.) Joe Swanberg, who directed "LOL" and I LOVED at this year's SF IndieFest! "Hannah Takes the Stairs" is nearly a 21st century, 20-something John Cassavettes feature. The performances are apparently improvised, yet played with such honesty and clarity of intent, that I was completely absorbed for the entirety of the film.
Greta Gerwig as Hannah, has a transparency in her delivery and performance that was beautiful to watch. Kent Osborne, Andrew Bujalski and Mark Duplass as her carousel of beaus are wonderfully cast with three specific and particular dynamics. Hannah's dilemma with each paramour is so well defined, especially in Ms. Gerwig's tour de force, I fell in and out of love with each of her relationships. This could have gone on for hours and I would have been there...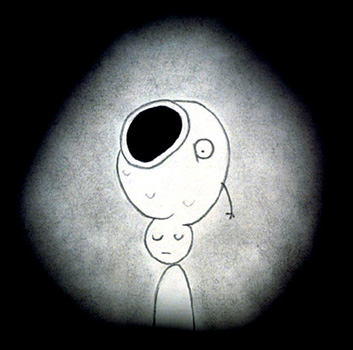 "Everything Will Be OK" (dir. Don Hertzfeldt, USA, 2006, 17 mins.) Oh. My. GAWD! I have missed this in San Francisco, Sacramento, Phoenix and once here in Atlanta. I FINALLY had the chance to screen Mr. Hertzfeldt's (Oscar nominee for "Rejected" and creator of the classic "Billy's Balloon"!) latest opus. He is a genius! Enough about him. On to "Everything Will Be OK". It is the latest in his psychopathic journey through his ID. He reaches nightmare qualities that he only brushed upon in "Rejected". He is stretching his visual style and technique in mind bending ways. The journey that 'Bill' (is it 'Billy' grown up?) takes in these 17 minutes is further and more complete than some Hollywood epics. I can't say enough about Hertzfeldt and his monstrous (the fish head?!) creations! It was THE highlight of the animation collection, which is in detail further down.


"Murder Party" (dir. Jeremy Saulnier, USA, 2007, 79 mins.) This genre bending little flick is actually a hoot and could very well be a new 'midnight classic'. In mixing art criticism, murder, horror and an outrageous rooftop chase scene, the flick nearly guarantees a non-stop intellectual and visceral joy! Chris Sharp (also producer) plays the hapless victim of accidentally attending a 'murder party' on Halloween that is all too literal. The murder is being staged by performance artists, which is how and why the screenplay allows itself to wander into intellectual terrorities usually unexplored in a horror genre. It is a hoot! FULLY recommended!

"Animation Extravaganza 1" featured eleven short subjects. Of those eleven, following are what I found to be outstanding. The rest? Well, it's just a lot of typing...

"Everything Will Be OK" (dir. Don Hertzfeldt, USA, 2006, 17 mins.) As I said above, a work of genius!


"Lagerheads" (Dir. Timothy Heath, USA, 9 min.) What starts off looking like a CUTE Disney adventure of baby lagerhead turtles making their way to sea, becomes a "Saving Private Ryan" nightmare! Twisted! LOVED it!



"Big Dreams" (Dir. Robyn Von Arx, USA, 3 min.) A swift and cynical look at 'success' in Hollywood. I LIKE cynical!


"Mirage" (Dir. Youngwoong Jang, USA, 9 min.) Simply gorgeous to look at! What happens, etc. is, well, up for interpretation. However, Jang's visual abilities are NOT to be questioned!


"Phantom Canyon" (Dir. Stacey Steers, USA, 10 min.) Surrealism at it's surreal best, more or less. Though NOT everyone's cup of tea, it still kept my interest.



Maxxxxx says
re "Hannah Takes The Stairs": "I love you!"
re "Everything Will Be OK": [Maxxxxx can not find the words to adequately describe his 'Herzfeldt Love'!]
re "Murder Party": "Sweet, sweet eye juice!"