Frameline's 31st San Francisco LGBT Film Festival screens in San Francisco June 14 through the 24th. I've been fortunate enough this year to have access to screeners of nearly the entire festival (since I'm in Atlanta, now), and I'll be posting 'previews' two days in advance of each day's screenings. Woo hoo!

Day 3, (aka Saturday, June 16) features two of the most anticipated shorts programs along with a FULL BLAST DAY of no less than 17 programs around the city! Even if I were still in San Francisco, I'd probably be able to see only a third of those. Here in Atlanta, I've been fortunate to screen three of those seventeen programs. Hopefully, I will be able to catch up as screeners continue to arrive. Until then, here goes!

Saturday begins with the EXTREMELY popular 'Fun In Boys Shorts' program. This year is a pretty good year as amongst the eight short subjects screening, at least four of them should be crowd pleasers. I don't know for certain the screening order, so here in alphabetical order are:


Color Me Olsen (dir. Darren Stein, USA, 2007, 19 min.) What starts of as a drag queen twink satire, actually evolves into a psychotic and disturbing comedic "Requiem For A Dream". The twins playing the drag queens (Gary and Edmund Entin) have a few rough comic edges, yet by the time they reach their climax, they've completely transformed into the Hollywood street schizophrenics that they are parodying. Darren Stein's script also starts a bit roughly, but really hits the groove by the end. This is one short subject that deserves to be built into a feature!


GROUCHO (dirs. Medardo Amor, Ángel Luis Rodríguez Suárez, Spain, 2006, 20 min.) is a fairly tame, yet endearing, sex farce involving mistaken identities, awkward collisions, subtle door slamming and some nice bits of humping noises from the entire cast! A gay couple celebrating a birthday have unknowingly attracted the 'attention' of a young man claiming to live upstairs. Of course, they do not realize he is related to a couple of guests. And thus, it starts! No gaffaws, but lots of comic tension, which I like!

Heartland (dir. Mark Christopher, USA, 2007, 12 min.) is not so funny as it is heartwarming, actually. A Yalie returns to his farmland roots to face the changes that he has made, yet embraces (literally and figuratively) his past, via one the
HUNKY farmboy next door. The performances are almost breathtakingly sincere by Corey Sorenson and JP Sarni. It started off almost too low key as far as its place in the 'Fun in Boys Shorts' program, yet it is an easily appreciated viewing. Personally, I'd have placed it in the 'Best Mates' program.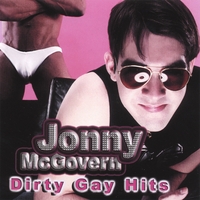 Jonny McGovern and Team Pimp Presents 'Somethin for the Fellas' (That like the Fellas) (dir. Scott Video, USA, 2006, 5 mins.) This is 'just' the video that accompanies Jonny McGovern and Team Pimp's single "Somethin for the Fellas". I believe it is the first short of this program, and it will be a nice prelude to wake everybody up for the rest of the day.


Love is Love (dir. Anne Renton, USA, 2007, 7 min.) is set in a world where homosexuals are the norm and heterosexuals are 'queer', and features Jane Lynch as a fire-and-brimstone-herosex-is-evil minister. I. Love. Her! The rest of the cast are fine and the premise is worked for about as much as it can be, as it does reach into skit territory. There is a possibility it could be fully developed, but it seems unlikely.


The Saddest Boy in the World (dir. Jamie Travis, Canada, 2006, 14 min.) This is one of the most uniquely visual films in the SF LGBT Fest that I've seen in a long time! A young boy is nearly paralyzed by his life in the perfect suburbia that his mother has created. It is a bit creepy and disturbing and sickly entertaining and funny! It looks great, the performances are extremely focussed and disciplined and the script doesn't pull punches! I would love to see MORE of Jamie Travis' work!


Serene Hunter [no weblink] (dir. Jason Bushman, USA, 2006, 13 min.) is perhaps the oddball of the bunch, if not the weakest. We follow an over-sexed man go from trick to trick, leaving behind broken hearts. More or less.


signage (dir. Rick Hammerly, USA, 2007, 12 min.) This is perhaps the most complex and sincere short of the group. Rick Hammerly wrote, directed and stars himself, and does all three quite effectively! He is facing a mid-life crisis and meets a man, er 'boy' half his age. What makes the meeting more remarkable is that the 'boy' is deaf. Both of their friends express concerns for their differing reasons: age and hearing. And it is this complicated dilemma which brings Hammerly's character to a fascinating introspective climax. It's a remarkable piece of personal work on Hammerly's part!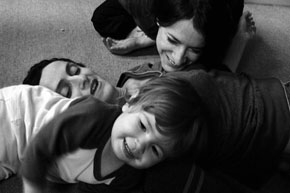 I haven't seen the second most anticipated program, 'Fun In Girls Shorts', but I did see one of the 'chick flicks' of the day. Tick Tock Lullaby (dir. Lisa Gornick, UK, 2006, 73 mins.) is a beautifully performed little soap opera about a number of lesbians' trials and tribulations in wanting to have a baby - but without a test tube! It does not go into the social politics, but relies only on the drama within the relationships between the women and their potential 'donors'. The film is at an odd length, that probably places it into a 'made for tv' format. However, it is neither too short or too long. And it will probably never be seen in the FCC'ed U.S., either. Pity.

The only other program that I've seen is the encore screening of "Surveillance", which I do recommend, though with reservations.


Maxxxxx says
re "Fun In Boys Shorts": Raucous laughter!
re "Tick Tock Lullaby": "I love you, too!"