Also posted at Southern Screen Report

The 4th Atlanta Underground Film Festival concluded at The Plaza Theatre on Ponce de Leon, with closing night films and parties at other venues, though I stayed the day at The Plaza. It was a day of short subjects. All day. Until 11:00 p.m., which screened a short feature before the 'official closing night' feature, BLOOD CAR, which I saw earlier this year.

Massive short subject programs can be difficult for all parties involved. There is the episodic nature of the beast, which can slow a program down for the viewer. If the program has not been transferred onto a single media, then the projectionist needs to be a VJ of sorts, popping discs, tapes and film reels on and off machines and slamming the screen with images as efficiently as possible. There is an art to projection, and it doesn't become more painfully evident than in a shorts program. Thankfully, the AUFF had some pretty experienced guys working the booths. In fact, today, which I approached with a particular dread of what might be technically in store, was beautifully set up and projected, led by a filmmaker himself, Blake Myers. He set up the projection in perhaps the best alignment, focus and aspect than any projectionist I've seen since leaving San Francisco! The technical juggling of discs and tapes by the rest of the crew was handled as best as possible, as they were using an Apple laptop for a dvd player, with a VHS on the side, thankfully forsaking the GO DVD/VHS integrated player which was giving them all sorts of problems the day before. The picture on the Plaza screen was so crisp that I did not mind some of the encore screenings and contemplated seeing BLOOD CAR again (though starting after midnight was going to be a test in of itself).

The day of shorts was divided into five programs: Sci-Fi & Horror Shorts; Shorts from Spain; International Shorts; Experimental Shorts; and last, though far from least, Animation Attack, Part 2, for a total of 36 pieces. Due to some technical difficulties at the beginning (which is why an Apple laptop was brought in for a DVD player), the day started way behind, so it was decided to run the programs concurrently, with nary a pause between sections. EIGHT SOLID HOURS of short subjects is a LOT of viewing, so I decided I needed food (and air!) and skipped out of the International program in the middle. I saw just 29 short films, give or take one or two that may not be in the program notes and/or may have slipped my mind.

Though I pride myself on thorough, yet pithy coverage of festivals, even I find recapping a day of 29 shorts and 1 feature a bit intimidating. If any of these titles strike your fancy, I encourage you to 'Google' them, as I might never finish hyperlinking and photo-linking! I will keep them in their respective programs and in alphabetical order.

The Sci-Fi Horror Shorts:

Agnieszka 2039 (Dir. Martin Gauvreau - Spain - 12 min.) This was also the opening short, and what an opening! The script is fairly surreal, having to do with an 'alien box' of some sort that sprouts (for lack of a better word) this enormous THING that seems intent on destroying the city it landed in. The special effects are simply spectacular, especially considering the fairly small scope of the project. The cinematography is a bit overexposed, though I know that was on purpose, it still made detail hard to see (which may be why they did it?). It is simply an exercise in effects and production design and it succeeds on that level.


By Appointment Only (Dir. Jon Faust - USA - 20 min.) The script is a bit off and confusing. However, Nancy Sinclair's performance is stunning, chilling and totally creeped me out!


Electrical Skeletal (Dir. Brian Lonano - NY - 6 min.) A fun and not too long homage to Hammer Classic Horror flicks! The animated skeleton is a bit cheesey, but that only adds to the charm.


Hanks Auto Repair (Dir. Matthew Stawski - IL - 14 min.) This was a quirky hoot! Visually, director Matthew Stawski has created a world that compares to Tim Burton's suburbia. His characters match the background setting they exist in. Now, if only the pace was in sync with the visual tone of the film, this would be a true cult classic on the festival circuit! He allows some of the takes to go on not one, but two extra beats, when he could easily snip away that extra second and still maintain the near Warner Brothers cartoon affection that the short holds. I really LIKED this and would love to LOVE it!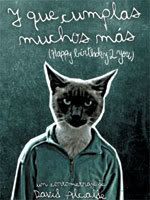 Happy Birthday 2 You (Dir. David Alcalde - Spain - 14 min.) This short is certainly making a name for itself on the international festival circuit. I first saw it this spring at the Atlanta Film Festival I haven't changed my opinion, and if anything, thanks to the AUFF's superior projection, I am only MORE eager to make it MINE! From the AFF screening: "Ooooo... Definitely twisted! Possible child abuse, dismemberments and a really creepy dream sequence! What MORE could you ask for in a horror flick?! OH! A really TWISTED ending! Bwahahahahaaaa! [I MUST get a copy!]" Yessss... I MUST!


The Boneworm Shrine (Dir. Justin Jones - IL - 15 min.) More or less an exercise in photography, but creepily effective, nonetheless. One could read a "War in Iraq" subtext to it, but in the midst of a festival, I was a bit tired to go that far with it. Justin Jones ably creates an alien landscape that is ruled by a particular insect. (The 'animal cruelty' disclaimer at the end is a hoot!)

The Last Man in Brooklyn (Dir. Roberto Bentivegna - NY - 9 min.) I particularly enjoyed this vision of a not too distant future as two men fight over a 'girl'. In its short 8 minutes, Bentivegna proves that the more things change, the more they stay the same. He creates an eerie setting and then fills it with an ageless conflict. Very clever...

Encore screenings were given to what is becoming one of my favorite shorts of the fest: Jump Rope with Gutz! and I Stand Alone (Dir. Blake Myers - GA - 5 min.)

Shorts From Spain
I don't know if it was by coincidence, but the majority of these shorts share the same general story arc. They each begin in a typical, if not nearly mundane premise and then a twist occurs. Sometimes the plot spins off the wall, or more delicately, the tone of the piece takes a 180 degree turn from where we were being led. I happen to like that! Though I will admit that my patience leading up to these twists was becoming short.

Antes Y Despues de Besar a Maria (Before and After Kissing Maria) (Dir. Ramon Alos - 7 min.) A nine year old boy yearns to kiss his older cousin during a summer holiday. He does get that kiss, but to call it bittersweet is an understatement. Touchingly done.

Boletos Por Favor(Tickets Please) (Dir. Lucas Figueroa - 14 min.) A man attempts to dodge paying for his train ticket and finds himself in a socio-political debate with a man who... well, THAT would be a spoiler! A nice O'Henry twist.

Dos Veces (Twice) (Dir. Joseba Fuentes - 24 min.) I either missed a critical detail in the early stages of the plot or perhaps I was supposed to be confused by this couple who were either playing out their divorce or playing out when they first met. The performances are so genuine for both scenarios that I couldn't tell which one was 'fake' until the end. Worth catching for the performances, though the script is a bit murky.

El Canto del Grillo(The Song of Cricket) (Dir. Dany Campos - 17 min.) Presenting this fairly simple story of a would be assassin in non-linear narrative elevated it from being annoyingly mundane to interesting, though ultimately still a bit annoying. The climax doesn't logically make sense to me, as I saw no reason for why our protagonist's boss didn't just take things in his own hands in the first place. (Vague? Yes, but I don't want to spoil it.) The performances are a bit one dimensional, too.

Josef M. (Dir. Juan Antonio Pascual Albarranch - 4 min.) A short animated moment of navel gazing. I don't know what purpose it was trying to serve as there was neither a complete narrative nor a style or technique to create any kind of visual or dramatic tension.

La Parabolica(The Parabolic Dish) (Dir. Xavi Sala - 12 min.) This was the opening piece of the program and it set the tone and pace of what was to follow. Though it began as an overtly cute episode of an elderly man trying to fix the antenna to his t.v. to watch the Pope, what he creates brings to him much more than what he (or even we the audience!) bargained for. The 2 or 3 minute climax was an emotional rollercoaster and, in the end, breathtaking! A subtle and DELIBERATELY paced little masterwork!

Mimoune (Dir. Gonzalo Ballester - 11min.) A docmentary of an illegal immigrant in Spain as he exchanges video greetings with his family in Morocco. His reactions are touching, though the film itself is a bit simplistic.

Experimental Shorts
The best of experimental (or as Stan Brakhage referred to it as 'personal') cinema should defy words, as the product itself should be of such visual strength that it cannot be described in any other way. However, I will try my best.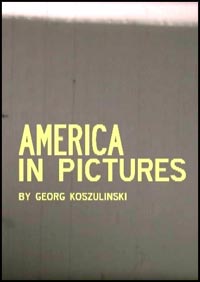 America in Pictures
(Dir. Georg Koszulinski - FL - 8 min.) I simply loved this! It harkens to the techique and style of Bill Morrison ("Decasia") in that it is composed completely of found and decaying footage. Here, Koszulinski uses images that are uniquely American and insinuates that these visions of America are antique and decaying. The accompanying film score was terrific too! The director was present and it took all I could do from TAKING his copy of this away from him!

Everything I Know About Drugs I Learned From Hollywood (Dir. Elina Shatkin - CA - 6 min.) "A visual exploration of how drug use is depicted in movies and television." That about says it all, though it was more humorous than not, it did end on a dark note that seemed to belie the implied satire of the piece.


Help is Coming (Dir. Ben Mor - CA - 8 min.) I finally got the chance to see this much talked about emotional dissection of the Hurrican Katrina and the Bush Administration. Three young boys, wearing masks of Bush, Cheney and Mayor Nagin, wander amongst the rubble in order to send "help". The visuals are stunning and the climax is damning. I loved it.

Last Request (Dir. Neil Ira Needleman - NY - 12 min.) The voice over of a dieing man describing his relationship with his father, who was a Dada-ist filmmaker. He is voicing over one of his father's films. As partial as I am to surrealism, Dada crosses the line for me. I find it more annoying (which is its point) than anything else.

Love City Review (Dir. Eric Potter - CA - 5 min.) Eh. Navel-gazing.

Animation Attack! Part 2
Adventure Time (Dir. Pendleton Ward - 7 min.) The best 'kiddie cartoons' are subversive. THIS was subtly so, as our hero and his magic dog must save a princess and her rainbow unicorn! It was a hoot to look at, too!


Self Portrait (Dir. Amber Boardman - 2 min.) Boardman animates via Zoetrope (photographs) and this was a visually fascinating and musically lovely little piece. There was a second short from Boardman, and not "China Zoetrope" as was listed in the program, but I don't remember enough of it to remark here.

Harmony (Dir. Jim Trainor - 12 min.) This 2004 project from Jim Trainor, describing natural events in their nastiest context, could almost be considered a classic. I appreciate his definitive personal style. However, I am still not a fan. I think there is an elitist humor in his work that irks me. He is also something of a rival to my animation gawd, Don Hertzfeldt!

Puppet (Dir. Patrick Smith - 5 min.) I saw this at the Atlanta Film Festival this Spring, and at the time, decided not to comment on it, except at the B-Side website. Really, I don't find it terribly remarkable in technique, style or story. Though it does have a fun little ending, it isn't something we haven't seen before.

The Greyhound (Allan Plenderleith - UK - 8 min.) The story of an old man and his old greyhound, who exist in nearly slow motion. It is really the greyhound's story as he yearns for his faster days to come back. It reminded me of some older European shorts from the '80's, which is NOT a bad thing.


Waif of Persephone (Dir. Nick Cross - 12 min.) A 'fractured fairy tale' of sorts concerning the spirit of Spring being abducted by the devil, whose ransom we are paying for today. Lovingly left wing!

Getgot - but it wasn't (Dir. Bryan Fordney - 6 min.) There was another short by the director of "Getgot", but I do not remember the title, nor does it appear on line. However, it was stylistically the same as "Getgot", and could be considered another episode of that same story.

There were also encore screenings from opening night of Death of a Matriarch (Dir. Takuro Masuda - 3 min.) and Pirate Baby's Cabana Street Fight 2006 (Dir. Paul Robertson - 12 min.)


Freelance (Dir. Drew Sawyer - GA - 63 min.) This was one manic and deftly executed piece of slapstick concerning a man's obsession to become the co-anchor with 'Rod Reel', who he idolizes. Bob Kunkel gives a great performance, going all out without going over the top into camp. Director Drew Sawyer surrounds Kunkel with a cast of actors and characters so well defined that they are able to perform minimally, without competing with the antics that are required from Kunkel's character. Though the script plays out like the best of British farce, the satire within it is purely American, as Sean Mann's script rips apart the family unit, Christianity and Alcoholics Anonymous, not to mention the mainstream media. The cinematography by Drew Sawyer and Bobby Mallin frames the sight gags perfectly, as well as enacting the 'hand held photography' that is done by the would-be cameraman, played by Jackson Williamson. The editing and pacing are terrific, building up to the climax as Kunkel's character SNAPS and decides to become a headline himself. At just over an hour, I don't know what it's future in distribution will be. As heavy handed as people believe farce is, editing it is a delicate matter and "Freelance" does not need padding to fill into a full length (aka 78 minutes or more) feature. Those extra 15 minutes would kill it. Hopefully, the film will provide enough backing for their next feature!

This was the final program and feature for me at this year's AUFF, and what a pleasant and engulfing experience it has been! I have found 'my people' here in Atlanta, as well as a few good spots for movies and food! Oh, and I have hesitated to mention that the HFD has been replaced by the adorable Festival Director, Eric Panter. He doesn't know it yet, but I'm building a festival crush on him! Shhhhhh...


Maxxxxx says
re all those shorts: [grunts and moans]
re Freelance: [nasty laughs!]