The Festival League continued and concluded the Atlanta Horror Fest in the creepy basement-ballroom of the Highland Inn, Atlanta, Georgia. Due to schedule conflicts, including the Zombie Walk and Gaylaxicon 2007 (both of which I will write about in the next day or so), I was unable to attend the fest as comprehensively as I wanted. However, I have already seen the majority of entries in the shorts programs, and I simply could not make it through to the final feature on Day 3, the locally produced "EVIL KEG", directed by Allen Wilbanks. So, as a matter of record, and to give a more complete picture of what was programmed for this year's HorrorFest, I'll recap what I have seen of the shorts programs from previous festivals.

From Day 3:

LOOK AT US NOW (Dir. ZombieCat, GA, 7 mins.) In only seven minutes, ZombieCat Productions (there is no single director credited) squeezes in a variety of cinematic styles. What starts off as a monologue trapped against a door, climaxes into an edited frenzy of violence and resolves with a creepy and inventive little take on the zombie tradition. What the group lacks in budget, they make up for in ingenuity and wit! [Complimentary screener from ZombieCat Productions]


Night of the Hell-Hamsters (dir. Paul Campion, United Kingdom, 16 mins.) The title alone filled me with grand guinol glee! An Ouija board summons demons that possess hamsters bent on taking over the world! If you crossed "The Exorcist" with "The Birds" you can imagine what I'm talking about! It. Was. A. Hoot! [Screened at this year's Dragon*Con]


Jump Rope with Gutz! (Dir. Blake Myers - GA - 5 min.) JUMP ROPE WITH GUTZ! wears its punchline on its sleeve, but the twisted bloodbath that leads up to it made me snicker! Yes, evil snickers![Screened at this year's Atlanta Underground Film Festival]


Zombie Love (dir. Yfke van Berckelaer, Netherlands/USA, 37 mins.) [I DID make it to the festival just to see this a second time!] The Dragon*Con Winner of the Horror/Comedy and Filmmakers (Peers) Awards, what is NOT to love about a zombie musical?! Especially one that gleefully rips off "Les Miz", "Beauty and the Beast", Michael Jackson and Bollywood! It is going to be available for purchase next month (hey! Where's the swag??), and I will have it, of course, since it is the joyful integration of two of my favorite genres! [Screened at this year's Dragon*Con]

From Day 4:


"Of Darkness" (dir. Gary Irwin, 2007, US, 21 mins.) totally creeped me out! Even though the cast left something to be desired at the beginning, I came to believe that it was all part of Irwin's disarming master plan. I actually cared more for this small group of pre-teens within the short 20 minutes than the entire cast of the two zombie flicks which preceded the night before. Miller also provides a fabulous shocker of an ending! [Screened at this year's SFIndieFest's Another Hole in the Head]


Electrical Skeletal (Dir. Brian Lonano - NY - 6 min.) A fun and not too long homage to Hammer Classic Horror flicks! The animated skeleton is a bit cheesey, but that only adds to the charm. [Screened at this year's Atlanta Underground Film Festival]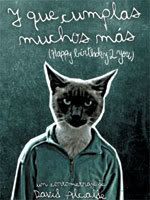 Happy Birthday 2 You (Dir. David Alcalde - Spain - 14 min.) Ooooo... Definitely twisted! Possible child abuse, dismemberments and a really creepy dream sequence! What MORE could you ask for in a horror flick?! OH! A really TWISTED ending! Bwahahahahaaaa! [I MUST get a copy!]" [Screened at this year's Atlanta International Film Festival and Altanta Underground Film Festival - Winner, Best Horror Short]


Kasting (dir. Alyosha Saari, United Kingdom, 2 mins.) Ohhhhhh.... This was EVIL! I LOVED it! I think it is part of a series of shorts in which our victim(s) is tested in an audition. "I want to see you die." shudd-dd-dd-dd-er! [Screened at Dragon*Con]

I regret having missed from Day 3: W.O.R.M. (Dir. Anthony Sumner), ATM (Dir. Lucas Godfrey), and from Day 4: A THOUSAND WORDS: BLOODLINE (Dir. J. Michael Lewis & Jerod Brennen), CALLOUS SENTIMENT (Dir. Vincent Grashaw), CANNIBAL FLESH RIOT (Dir. Gris Grimly)

And then there were the two features I screened on Day 3:


THE FOREVER DEAD (dir. Christine Parker, NC, 105 min) This starts off with a zombie bunny escaping its laboratory and spreading its terrible curse amongst the locals! You gotta LOVE that!! I LOVED the zombie bunny! I wanted MORE zombie bunny!! But what you get from this is a melting pot of zombie plots, which pushes the film into an uncomfortable length. This collection of homages could have been cut down considerably, though each section is thoroughly developed. But, aye, there's the rub! Director Christine Parker has actually created a zombie flick that reminded me of Luis Bunuel's later work. As we follow the path of the 'zombie virus' as it travels through the community, it is not unlike Bunuel's "Phantom of Liberty'. As we witness the various plotlines, it takes nearly an hour before the six principles are brought together in a house to work out their interpersonal issues, a la "Night of the Living Dead". That segment lasts about twenty minutes or so, and is in itself competently produced. The film then progresses outside of the house in a near stream of consciousness, until we are finally reunited with the Zombie Bunny. (Yay!!) The piece is fairly well produced and performed, and the gore is abundant! However, as much as I appreciate the amount of effort and the quality of the individual parts, I think the dreamlike plot progression that the picture has just isn't quite the right fit for the subject matter. Zombie flicks demand victim + gore + zombie-gore, then CUT! I think the success of zombie franchises are based on the idea that, yes, this 'virus' continues to pass throughout the society or civilization, but the audience can only take about eighty minutes of gore before it becomes numb, if not bored with it. I think Parker literally has three films in this one hundred-plus minutes if she were willing to flesh out each act. Sort of a "Zombie Bunny Trilogy" if I might be so irreverent to suggest! In short, I LIKED it, but wish I could have had smaller doses. Unfortunately for the feature that followed it, I was zombie-out.


COME GET SOME MORE (Dir Steven Grainger, GA, 60 mins) Perhaps I was all low-budget-zombie'ed out, and perhaps I was not in the mood for its 'hipness': i.e. director/writer Steven Grainger casts himself as "the Last Resort Man", who is always in Hawaiian shirts. The film mixes film noir with zombies, and throws in some ninja action for good measure. The opening infomercial about a domestic zombie service features Lloyd Kaufman (Troma!) and is fairly well made. What follows, however, is a mixture of production values, exposing an apparently long filming schedule. In fact, the difference in film stock as the editing of coverage during a lunch scene is so strikingly obvious that I thought it MIGHT be part of the joke that I just wasn't laughing with. The pacing in editing and performances is deathly slow - one of my biggest pet peeves. I regret sounding so harsh here, as the good nature of all parties involved comes tripping across the screen. However, the production just needs to be WHIPPED into a ninja-versus-zombie frenzy! Grainger was present at the festival for most of the weekend and seems like a cool guy. Perhaps he needs to be more of a tyrant on the set to pull the production together more quickly, thus ensuring some sort of cohesiveness in production quality by the end.


Maxxxxx says
re The Forever Dead: "Sweet, sweet eye juice!" [Maxxxxx is just a bit of a cannibal...]
re Come Get Some More: "Is it bedtime?"
Horror Shorts Days 3 and 4: "I wanna come out!"