'Tis the night before closing night for
Out On Film, IMAGE Film and Video's annual LGBT film festival here in Atlanta. The double feature tonight included one narrative and one documentary, of which there seem to have only been a few...


THE CURIOSITY OF CHANCE (dir. Russell P. Marleau, USA, 2007, 98 mins.) This is sort of a guilty pleasure. On one hand, it isn't really a 'masterpiece', but on the other hand, it accomplishes everything it sets out to do, and maybe a little bit more. It's an homage of sorts to all those teen flicks from the '80s, though it feels a bit like an After School Special, too. Director/screenwriter Russell P. Marleau moves 'the gay boy' from being the 'best friend' to front and center. 'Chance Marquis' is an out, but not yet proud, gay teenager attending an International High School "somewhere in Europe". He is played with outrageous charm and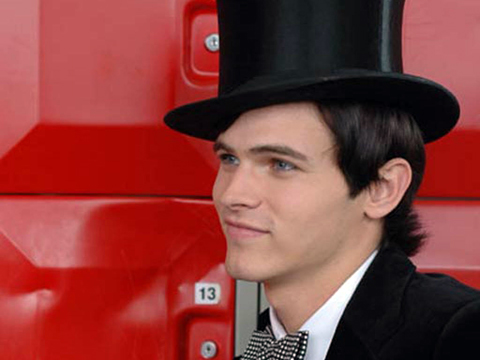 drop-dead-gorgeousity by Tad Hilgenbrinck. (Yes, I know I sound like a dirty old man, but he is simply beautiful and photographs great from any angle.) The story involves not his coming out, but his coming of age and empowerment. It is delivered with exceptional wit, and with as much sincerity as Marleau's international cast was able, in spite of some diction problems. The film was shot in Belgium, with all but four leads hailing from there, so I would guess that some of the supporting cast may have been performing phonetically, at times. As far as physical comedy, some of the bits were hysterical (i.e., the dodgeball segment), and some of them misfire (i.e., nearly anything having to do with the vice principal). The inclusion of a 'love interest' (played by the suitably hunky Brett Chukerman) is something of a subplot to 'Chance's journey, which is a remarkable and welcome departure to the typical 'gay boy in high school' film!


The production design, particularly costuming, is flawless! The "chorus line" of drag queens are incredibly costumed! (Lest I forget Danny Calander as 'Claire Vuoyant', who lends more charm, graciousness and wisdom than any drag queen before him!) I found the music supervision and original score to be something of a mixed bag, but that might be due to my own personal taste and lack of appreciation for mid-80s rock to begin with.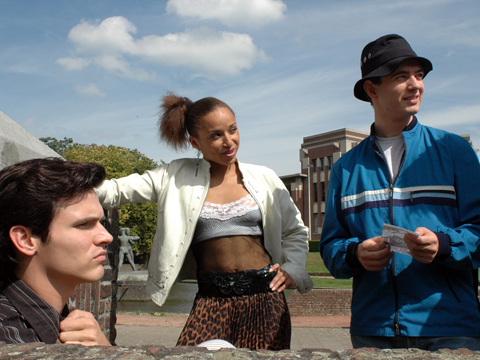 As the film progressed, I was laughing along with it, and feeling a bit put off at times as it got cheesy, I could not help to admire that it was so genuine about everything it was doing, whether it was the cynical wit of Aldevina Da Silva as the sardonic best friend, 'Twyla Tiller' or the obvious clowning of the 'school dweeb' played by Pieter Van Nieuwenhuyze. The final moment that completely won me over to the 'Cute Side' as it were, was at the beginning of the closing credits: "'The Curiosity of Chance' a film by the following people" and the credits rolled. I just sort of loved that.


Dos Patrias: Cuba y la noche (dir. Christian Liffers, Germany/Cuba, 2007, 82 min.) For what is quite simply a documentary which interviews five gay men and one male-to-female transexual, this was a difficult film to follow, though the main point, that being gay in Cuba is NOT fun, was easily made. What made it difficult was director Christian Liffers style or format. Each interview is framed by a poem by author Reinaldo Arenas, a Cuban homosexual who came to the U.S. in the 80's and committed suicide in 1990. Arenas' work may lose a bit in translation, as the subtitling was riddled with odd word choices and bad grammar. Each interview was followed by a street musician, whose lyrics (perhaps based upon, adapted or were Arenas poems?) were as difficult as some of the readings. Not to mention that I didn't really like his music to begin with, so his continual reappearance began to annoy me. The actual interviews were of some interest, though a bit repetitive. However, the transgender's speech was the most touching, as she spoke mostly about her emotional life in Cuba, as opposed to the socio-political difficulties which the previous five men spoke of. There is a nearly clinical dryness to the film, which is personally ironic as I am something of a zealot when it comes to the documentary format and the way it has been 'dramatized' or transfigured into editorial in recent years. It is just that with this film which deals with human lives, I expect a bit more... humanity, I guess, for lack of a better term.


Maxxxxx says
re THE CURIOSITY OF CHANCE: "Wooooo! Dooby doobie dooo-oooo!"
re DOS PATRIAS: CUBA Y LA NOCHE: "Is it bedtime?"