The Atlanta Film Festival 2008 continues it's 9 day stay at the Landmark Midtown 8. Festival Director Dan Krovich has been doing the pre-show introductions, in spite of a NASTY sounding cold. Today, four more features and six more short subjects...


THE STONE ANGEL (dir. Kari Skogland, Canada, 2007, 115 mins.) Though word of mouth has not been as enthusiastic as one would expect, the cast made this a must-see for me: Ellen Burstyn, Ellen Page and Cole Hauser! However incredible that Burstyn is with anything she does, this screenplay feels BOUND to the book it is adapted from. It never really goes beyond being an intergenerational character study of Burstyn's character, which is shared by Christine Horne and Samantha Weinstein, in her younger incarnations. Christine Horne bears a great responsibility in displaying the character's transition from "party girl" to the over obvious allusion to "the stone angel". Also, Dylan Baker plays her adult son and is finally given some real meat to deliver. The look of the film is polished and the pacing is non-objectionable, which sounds like exceptionally slight praise. However, the film is well done, without being necessarily breathtaking.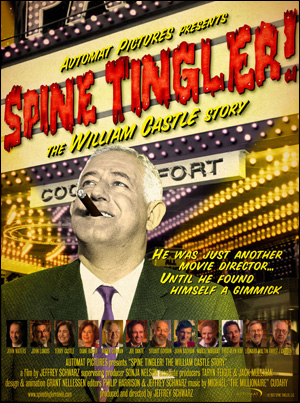 SPINE TINGLER! THE WILLIAM CASTLE STORY (dir. Jeffrey Schwarz, US, 2007, 82 mins.) The title says it all. If you love him, you'll like this. I might have wanted a bit more detail about how he was able to afford some of the gimmicks he delivered to the theaters. They seem to cost more than the movies themselves! Plus, any doc that interviews John Waters gets high marks from me!




TO MY GREAT CHAGRIN: THE UNBELIEVABLE STORY OF BROTHER THEODORE (dir. Jeff Sumerel, US, 2007, 90 mins.) Though an actual biography appears to be impossible, this comes as close to anything that might explain, if not be a tribute to Theodore Gottlieb, aka Brother Theodore. His performance art was somewhere between beat poet and standup comic. He delivered his monologue for at least two dozen years, appeared on innumerable talk shows, made a half dozen or so recordings, yet never became a "star". Had that happened, it would have killed his act. But what this tribute tries to question is whether it was an act at all. The film is filled with voice over testimonials, as we watch decades of film and tape of Theodore on the screen.


During the Q&A, director Jeff Sumerel said that he made the editorial decision of keeping the faces and names OFF of the film until end credits, in order to give Theodore the star bio that he claimed to crave all his life. But the film takes its own quirky twist by using a puppet as the visual for one of Gottlieb's final taped interviews. It is all very murky and eastern European - think Jan Svankmajer - looking. I barely remember Theodore from his Tonight Show appearances. However, after seeing this documentary, I'd love to get a hold of some of his recordings, which seem to be available via the film's web site.


THE AIDS CHRONICLES - HERE TO REPRESENT (dir. Bailey Barash, US, 2007, 90 mins.) This documentary about AIDS in the Atlanta African-American community relies on a series of interviews to tell their stories. As a film, it does not break away from the "talking heads", though some of the testimonies are quite personal. It does not necessarily cover new ground, either, which is perhaps the saddest part of all, after over 25 years of fighting the epidemic.

The final program of the day was a collection of six short subjects, grouped under the title "Around the World Shorts". In no particular order:

THE VULNERABLE ONES (dir. Bent-Jorgen Perlmutt, Congo/USA, 2007, 14 mins.) A son helps his paraplegic father smuggle goods into Rwanda. What is most captivating about this short is the limited view of American culture in the village. At least for me, anyway.


CHIEF (dir. Brett Wagner, US, 2008, 21 mins.) A Samoan Chief tries to hide his identity, though he is faced with his own heroism before a tsunami. More or less. The pacing and visuals were quite nice, as Samoa and Hawaii or lovely to look at, regardless of the story involved.

X (dir. Josh Brolin, US, 2007, 15 mins.) Josh Brolin's directorial debut, starring his daughter. She and her father, played by a HEAVILY tattooed Vincent Riverside(?), are out to give her mother a proper burial. It is a pretty dark little tale, and a pretty good first shot by Brolin.

Soft (dir. Simon Ellis, UK, 2007, 15 mins.) An exceptional work on all fronts! Simon Ellis has created fifteen minutes of tension and wrought atmosphere as a father and son face some bullies on their doorstep. I really had no clue where it was going and was surprised, if not relieved, by its resolution. It has a shelf full of awards, including the Palm Springs Shorts Festival and Sundance.


THE EXECUTION OF SOLOMON HARRIS (dirs. Wyatt Garfield, Ed Yonaitis, US, 2007, 8 mins.) In a deceptively single take (the sound designer said it was actually four takes designed to look like one!), an execution is horridly botched and we watch the warden attempt to deal with it... in various means! It could have gone on longer and I would have been hooked! A great piece of work from the Savannah College of Art and Design!


COSMOS (dir. Clayton Hable, US, 2007, 23 mins.) A fabulously executed tale of the "last Soviet" stranded on the Space Station Mir, forgotten by the fall of the USSR. Technically, it looked incredible, with some fabulously conceived effects. The music score by Ian Weir is also remarkable. The performance by Ravil Isyanov as the cosmonaut was exceptional. Overall, considering it is a "student film" from Florida State University, it is outstanding!


Maxxxxx says
re THE STONE ANGEL: "Is it bedtime?"
re SPINE TINGLER! and TO MY CHAGRIN: "What's your name?"
re the shorts: "Wooooo!"