The Atlanta Film Festival 2008 continues it's 9 day stay at the Landmark Midtown 8. Uh, oh! The late nights are catching up with me. Today was the first day I gave in and took a nap, and I got to see a couple old familiar faces in a film made in Denver!


COYOTE (dir. Brian Peterson, US, 2008, 94 mins.) What is nearly a two man production, Brian Peterson and Brett Spackman created an unlikely 'buddy movie' about illegal immigration. The characters attempt to create a safer and friendlier border crossing service, without foreseeing the greed, corruption and danger that will play out before their venture reaches its tragic ending. That's not a spoiler, by the way, as the opening ninety seconds of the film occurs during the climax and what follows is a flashback, of sorts, as to what has brought him there. Brian Peterson has effectively directed a morally ambiguous performance from himself. He becomes something of an anti-hero as the film progresses. His character signifies the "American Dream" - a thirty-something who has already been able to retire and is about to be married. His American born, hispanic best friend, played by Spackman, is Peterson's foil, and becomes the moral center of the film. Extra credit must be given to these guys for writing for women, also. Carley Adams and Marina Valle have respectably sized roles as the love interests. Visually, the film is not necessarily remarkable and has some real issues regarding lighting towards the end, where the whites are so overwhelming that certain details are indistinguishable. (Perhaps it needs some color correction?) Other than that technical problem, it is an exceptionally paced film, but in timing, plot and emotional curve.

FOR OUR SONS (dirs. Vanz Chapman, Erik McKay, US, 2007, 83 mins.) Well, it is a documentary about the black male experience in the U.S., as told in 'talking head format' by a long line of speakers. In short, this is when I fell asleep, so I can't really speak about it.


MONGOL (dir. Sergei Bodrov, Germany/Kazakhstan/Russia/Mongolia, 2007, 120 mins.) This Oscar nominated foreign language film (officially from Mongolia?) is spectacularly shot. It was nearly on the level of David Lean spectacle, and deserves to be seen on the largest screen possible. (It was screened in the smaller cinema #3 and should have been in #4, but there was a sell out in the larger house.) it is difficult to appraise performances that are 1) in such a foreign language; 2) set in 12th century Mongolia. However, the pair of actors playing Ghengis Khan and his wife are able to express a romanticism that is on par of the incredible battle scenes, thus the allusion to David Lean spectacle. So, though it is great to see some spectacle, the history seems so remote to me, that it plays almost as fantasy more than history. It also has a really odd end title score, that has nothing to do with the period, much less the story of what the film was about.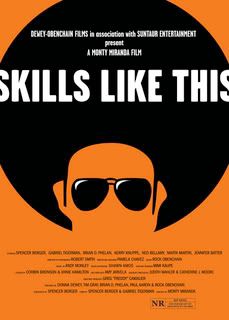 SKILLS LIKE THIS (dir. Monty Miranda, US, 2008, 87 mins.) So, as director Monty Miranda introduced the film and mentioned having shot it in Denver, I will admit I was distracting myself in trying to spot any friends from a half lifetime ago, but there was Marcus Waterman, playing the foul-mouthed "Mr. Nam", shouting obscenities at 5th graders! THAT was worth the price of admission! (I also spotted Patty Figel, in a non-speaking role, and Mark Rubald and Tupper Cullum were in the credits, though I did not recognize them during the film.) Anyway, the film itself is a nice little comedy about a writer, charmingly performed by screenwriter Spencer Berger, who realizes that his talent does not lie in playwriting but in robbing people. His uncanny ability to just walk into an establishment and successfully insist on getting their cash, also acts as an aphrodisiac for the women, and in one surprisingly successful comic performance, his best friend played by Brian D. Phelan, who also produced the film. Phelan gives one of those rare performances as "the asshole best friend" that you do NOT hate by the end! He delivers the obnoxious character with such sweet charm that you not only forgive him, but look forward to his next faux pas! Technically, the film is not remarkable, though some of the featured music and bands are great. However, it is apparent that the focus was on screenplay and performance. Thankfully, there is not a moralizing resolution and the film maintains its lightness through the end. It is a fun time!


Maxxxxx says
re COYOTE: "Wooooo!"
re FOR OUR SONS: "Is it bedtime?"
re MONGOL: SHRIEKS!
re SKILLS LIKE THIS: cackles