Posted at Southern Screen Report, but edited with additional Awards commentary here.


The 2008 Atlanta Film Festival came to a close on April 19 with the feature filmTHE VISITOR. Executive Director of IMAGE Film and Video (now rechristened as Atlanta Film Festival 365), Gabriel Wardell, gave the obligatory thanks to the volunteers (an army of people, who did do a remarkable job this year!), the various sponsors and, of course, the staff of only four other people: Festival Director, Dan Krovich; Managing Director, Paula Martinez; Communications Director, Charles Judson; and Education Director, Elizabeth Hamilton. Wardell then introduced Thomas McCarthy, the director and writer of the closing night film, THE VISITOR, which opens in Atlanta on April 25, at the Tara.

After the successful opening night event at the Atlantic Station Regal Cinemas 16, the festival screened over 150 films at the Landmark Midtown Art Cinema, to over 13,800 attendees. The logistics of the festival went off with barely a hitch! There were no house management snafus or any crowd control chaos, even with last minute screening room substitutions. There was always a volunteer who was able to at least escalate to a volunteer manager any questions or concerns. Projection quality had improved by leaps and bounds from 2007! The kinks of adapting to the Landmark Midtown's newly installed digital system were completely resolved, even during any of the technically treacherous short subject programs. The were only a couple issues with the sound system. However, that could have been due to the media that the films were transferred on, as much as compatibility with the available systems.

Several screenings came packaged with after parties held at the Atlanta Contemporary Art Center, Paste, Soapbox Studios and Guillotine Post. And, as an extra bonus during the festival, The Independent, a pub above the Landmark Midtown, was opened exclusively for festival pass holders and filmmakers, where sponsors Stella Artois and Starbucks served beverages, gratis. This was an exceptionally nice touch for those who are "working the fest", as The Independent has complementary wi-fi access, and work could be done during the hour between most screenings. As for any other perks or swag, what was sort of lacking in the "gift bags" for Opening and Closing nights, was made up for with some promotional merchandise at The Independent. (However, maybe the AFF-365 might consider hitting up gift bag sponsors in the future? Though not really having anything to do with "cinema", it does set off a celebratory feel to those paying premium prices for those events.)

The Atlanta Film Festival 365 is a competitive and juried festival. It is one of the festivals which short subjects are able to qualify for Academy Award screenings and nomination. The 2008 Jury Awards went to the following films:


Narrative Feature: MAKE OUT WITH VIOLENCE (dir. The Deagol Brothers, US, 2007, 108 mins.) Obviously, it is all a matter of taste as it zombified me. My pick would have been COYOTE, it is an exceptional piece of work.



Documentary Feature: AT THE DEATH HOUSE DOOR (dirs. Peter Gilbert, Steven James, US, 2008, 96 mins.) Gilbert and James were also honorees at this years AFF-365 Gala Awards Celebration, which may have given this film an edge over an exceptional field! I would have picked the not-just-another-Iraq-documentary LAND OF CONFUSION.


Narrative Short: AQUARIUM (dir. Rob Meyer, US, 2007, 17 mins.) I did not see this, and I actually only saw 10 of the 15 shorts in this competition category, which were maybe half of all the shorts screened. As much as I usually try, I just got a little burnt out on them. My pick, from what I saw, would have been THE ADVENTURE, which had such style and quirkiness, I simply LOVED it!


Animated Short: BUT SOME ARE BRAVE (dir. Grace Channer, Canada, 6 mins.) It is gorgeous and painstakingly made. If for mere entertainment value, I'd have picked FLATLAND: THE MOVIE. Regardless, I loved both of these.

Documentary Short: AFRICA'S DAUGHTERS (dir. Natalie Halpern, US, 2007, 25 mins.) Out of the nine doc shorts in competition, I only saw three, so I can't really comment here.

Special Jury Prize for Excellence in Direction: MY EFFORTLESS BRILLIANCE (dir. Lynn Shelton, US, 2007, 79 mins.) I do not know if this only considered the films in competition or the overall festival, but I am going guess it is the former. With that, I would have chosen Brian Petersen for COYOTE.

Special Jury Prize for First Documentary: LAND OF CONFUSION (dir. Jeremy Zerechak, US, 2007, 91 mins.) NO ARGUMENT!!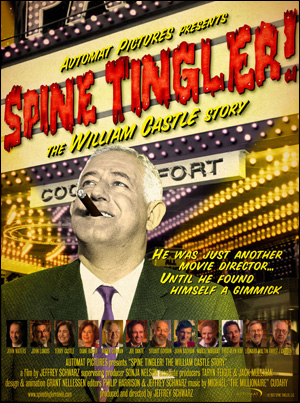 Special Jury Prize Pure Documentary Entertainment: SPINE TINGLER: THE WILLIAM CASTLE STORY (dir. Jeffrey Schwarz, US, 2007, 82 mins.) An odd category, but even though interviewing John Waters is always a treat, I would have chosen JUMP!, since it did make me cry, after all!


AFF-365, with the sponsorship of Turner Broadcasting, premiered an award for films with a GLBT focus, called the Pink Peach Award. They went to XXY (dir. Lucia Puenzo, Argentina/Spain/France, 2007, 91 mins.) and a Pink Peach Special Jury Prize went to THE ELEVATOR (dir. Ben Hakim, Israel, 2007, 23 mins.). I saw the former and really liked it! I did not see the latter and I'm not exactly sure what constitutes a "special jury prize" to begin with.


The AFF-365's Rapid i Movement is a competition in which groups create a short in 48 hours. The Grand Prize went to DONE IN ONE, by Mavin Productions. I saw this in one of the quarter finals in the winter, and LIKED it, though I could swear they had it to have prepared the script before the competition.


The AFF's Audience Awards went to YOUNG @ HEART (dir. Stephen Walker, US, 2007, 110 mins.) for feature, which I could easily concur. The audience short subject went to MEXICAN IN THE CLOSET
(dir. Chuck Moore, US, 2008, 25 mins.), which I did not see. I would have guessed it to go to COSMOS (dir. Clayton Hable, US, 2007, 23 mins.), which was one of the most talked about shorts in between screenings. I do not believe there was an Audience Animated Short Award, but that should change. With nineteen animated entries this year, it's a category that deserves more attention.