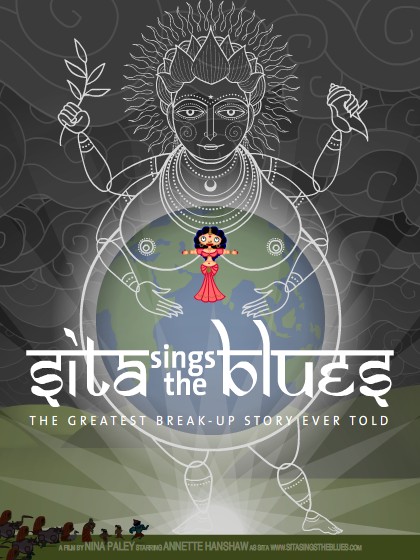 The Third Annual San Francisco International Animation Festival opens November 13th at Landmark's Embarcadero Center Cinema, with SITA SINGS THE BLUES (dir. Nina Paley, US, 2008, 82 mins.). This remarkably stunning feature is a uniquely appropriate way to open an "international animation festival" as it the triad of stories it presents are constructed from comprehensively encompassing animation styles. In SITA, director Nina Paley has woven three plots that represent India's mythology, its past and its present. The mythology is explained by a panel of voices, whose stories are animated via collage. India's past is humorously enacted via flash-animated Bollywood and the character of Sita, which features the soundtrack of jazz and blues (as sung by Annette Hanshaw) from the 1920's and 1930's. The present is played out in traditional drawn animation as a Western couple face a relationship as a boyfriend takes a job in India. The three stories are woven together to present Paley's real-life dilemma, when faced with her boyfriend's commitment to go to India, as it compares to the legend of Sita and Rama. It is with that allegory that Paley is able to take these fabulously designed flights of fantasy into India's culture, both past and popular. If there is anything to "fault" the piece, it is almost too much of a good thing. In other words, the continual weaving of the three pieces does require some focus and concentration. Enough to test the length of the film. Perhaps a little less cross cutting, or more judicious editing? However, one would risk eliminating the visual joy of the "mythology" and "Bollywood" sections for the "relationship", which is where to drama rests. But I digress into "armchair directing" here.


In the end, it is best to sit back, relax and let the delirium of SITA's blues to sweep over you! In fact, if anything, I'd LOVE a re-edit of nothing but the "Bollywood" sections! It will be a FUN opening night!




Tomorrow: A preview of the two Short Subject Programs, which represent seventeen shorts!


Maxxxxx says
re SITA SINGS THE BLUES: "Dooby dooby doo-ooo!"