The 52nd San Francisco International Film Festival runs April 23–May 7, 2009 at the Sundance Kabuki Cinemas, the Castro Theatre and Landmark's Clay Theatre in San Francisco; and the Pacific Film Archive Theater in Berkeley. For tickets and information, go to www.sffs.org.

Though science fiction and animation are not strangers to the San Francisco International Film Festival, they are typically schedule "out of the way": matinees and midnights. Not so this year, and it could be to the high quality of programs. Of the previews I've seen, i am HIGHLY recommending:


THE IMMACULATE CONCEPTION OF LITTLE DIZZLE (dir. David Russo, USA, 2009, 100 mins.) Though some of its corporate snarkiness may be a bit fizzled to the new fans of the recent television series BETTER OFF TED, there is still a great deal of independent, alternative and punkish humor to keep it from being sit-com fodder. Also, the animated elements from director David Russo and Dutch animator Rusto elevate the film to some really cool psychedelic plateaus that aren't generally distributed for mass consumption. (At one point I thought Russo had stolen an idea from I AM (NOT) VAN GOGH (SFIFF 2006), until I realized that it was HIS film, too!) It is as if Russo has created a polished and beautifully designed cult flick!


What makes a great cult flick is its subversive script. I don't want to give away too many spoilers, though the program guide sort of does that, but eating the latest corporate experiment in food products, which release in males a psychedelic experience, followed by a butt pregnancy, as it were, is something you just gotta know when you walk into it! The script also touches on slacker, artistic and corporate greed. There are no innocents in the cast, with the possible exception of Dory (Marshall Allmann), who is the adorable innocent, who loses his corporate job and finds a job with the punkish band of janitors led by the ferocious and magnetic performance of Vince Vieluf.


Of course, I can always get snippy about script and editing. There was a point where it felt longer than its 100 minutes. However, I am not so sure what one would cut. The hallucinations probably go on longer than necessary, but I LOVED them! There is a romantic triangle of sorts that is a bit in the way, but that's just me quibbling. Overall, it is a hoot of a flick and I hope it makes its way to the screens and beyond.


MOON (dir. Duncan Jones, England, 2008, 97 mins.) I am finding it hard to start in commenting on this exceptionally complex and sophisticated science fiction throw back to the sociological conscious dramas of Serling, Kubrick and Jerome Bixby. I guess you have to start with the visuals. Director Duncan Jones has unashamedly designed around the films of the late 60's and early 70's: 2001: A SPACE ODYSSEY is is most obvious influence, but there is also some SPACE: 1999 and ALIEN grittiness thrown in there. Apparently the interiors were film in a self contained set. The exteriors appear to rely on models and animation. The design of GERTY (voiced by Kevin Spacey) is something of a throwback to the rough droids of SILENT RUNNING. The production design could best be described as Industrial Sci-Fi, without a lot of bells and whistles, which is a blessing as that would have distracted from an intense screenplay.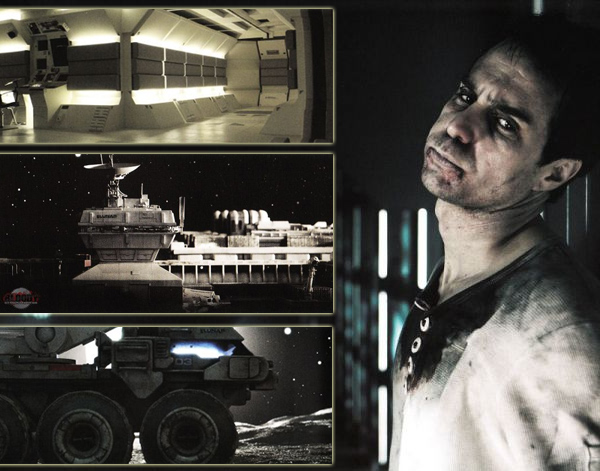 Nathan Parker's script relies nearly solely on the abilities of Sam Rockwell, as the lone astronaut at a mining site on the Moon. Rockwell is required to play himself, opposite himself, in various stages of duress. The makeup and hair designer, Karen Dawson, receives an unusual opening credit. However, her work with Rockwell is so exceptional, that whatever accolades he will receive for his performance, I hope he shares it with her. As his various "identities" (I'm working hard here not to spoil it!) interact, there is no question as to who is
talking to who, even though we might not know the reality that the "who" is existing in. And this is where Parker's script is a maze of existentialism. The drama that enfolds is so internal to the character that it is both involving, yet frustrating. Once pieces start to fall into place, his role in the universe becomes an even bigger question, which might frustrate some viewers, but might transport hard core sci-fiers into existential nirvana!

The special effects are stunning for such a low budget film. I don't want to over elaborate, but the ping pong game blew my mind!

Now, on to the one sci-fi/animated flick I've seen as part of SFIFF 2009 that was not that fulfilling.


BATTLE FOR TERRA (dir. Aristomenis Tsirbas, USA, 2007, 100 mins.) In the spirit of full disclosure, I saw a preview of BATTLE FOR TERRA in 'real 3D' which will not be the format that it will screen at the SFIFF. However, the production design of the film is compelling. More compelling than the script, I am afraid. It is pretty simple minded and exceptionally heavy handed. After the film, all I could think of was "I guess it's sort of the Revenge of the Sea Monkeys against their human captors?" There is some notable voice talent, particularly James Garner and David Cross. Beyond that, however, it's pretty run-of-the-mill stuff. Oh, speaking of, the film did screen at the Mill Valley Fest this past year as "BATTLE" and it will open nationwide May 1st. So unless moved by the "fest atmosphere" or if you have an open slot on your fest schedules, you may want to save this for later.


Maxxxxx says
re THE IMMACULATE CONCEPTION OF LITTLE DIZZLE: chuckles maniacally
re MOON: "What's your name?"
re BATTLE FOR TERRA: "WHAT?!"