The 52nd San Francisco International Film Festival runs April 23–May 7, 2009 at the Sundance Kabuki Cinemas, the Castro Theatre and Landmark's Clay Theatre in San Francisco; and the Pacific Film Archive Theater in Berkeley. For tickets and information, go to www.sffs.org.

In addition to some exceptional examples of animation in features that the SFIFF has programmed this year, there is a program of shorts and a related documentary.

The animated shorts this year are gathered under the title, A THOUSAND PICTURES. (In the spirit of full disclosure, I am a member of the co-presenting sponsor, ASIFA-SF and am a member and the Secretary of ASIFA-Atlanta.) It is an international collection of seven pieces, and in apparent screening order:


PHOTOGRAPH OF JESUS (dir. Laurie Hill, England 2008, 7 min) This is the first and my personal favorite of the program. It is an exceptionally humorous piece in which an interview with Matthew Butson, an archivist at Getty Images, is animated with pieces from the archive, detailing the unusual, if not totally inane requests the archive receives, i.e. a photograph of Jesus! It is an excellent use and example of collage animation!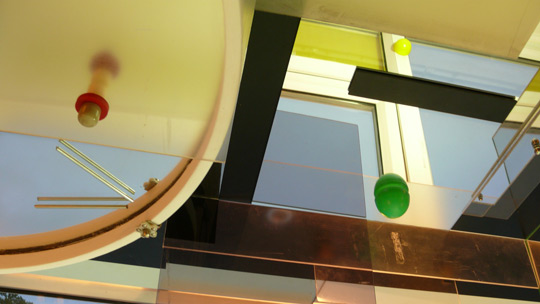 AANAATT (dir. Max Hattler, England 2008, 5 min) A purely abstract piece of stop motion animation, where Max Hattler has photographed in such angles and design, that perspectives of "up and down" or "front and back" are completely turned on their heads. It is a beautiful and perplexing piece! I hope it keeps viewers involved, though I can see where its disorienting visuals may turn some minds away. I, on the other hand, was completely captivated!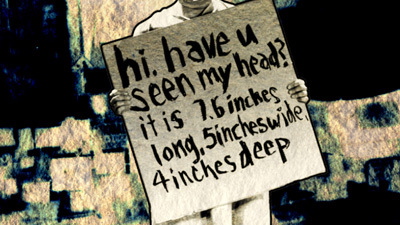 KANIZSA HILL (dir. Evelyn Lee, USA 2008, 8 min) A severed head explores the intellectual universe, while its body searches desperately for it. More or less. I found it to be a more sophisticated relation to Count Lear Bunda's HITLER'S BRAIN, perhaps, though Evelyn Lee used a lot more mixed media and once she went into some of the psychological testing, I was starting to blow my mind... In a good way, though!


SLAVES (dirs. David Aronowitsch, Hanna Heilborn, Sweden 2008, 15 min) This "animated documentary" visualizes the stories of two Sudanese children who were abducted by the government-sponsored militia and made slaves. Their stories are as difficult to listen to as most holocaust events in which families are torn apart and murdered in front of their children can be. I think that animating it is to make it easier to take, as well as protects the identities of the children who are speaking. It is difficult to watch too, though not due to the visual style as it is due to the simple task of subtitling technique - ah yes, the dreaded "white-on-white". The print I previewed was not the final sound print, and perhaps that finalization will include replacing the subtitles with amber print. I know it sounds petty, considering the subject matter, but CONSIDERING the subject matter, the story should be delivered as clearly as possible.


FAR AWAY FROM URAL (dir. Katarina Lillqvist, Finland 2008, 25 min) Though it is technically a marvelous piece of puppet animation, set to a fantastical story of forbidden love, it was just a bit too... expressionistic for me to grab on to. I seem to have gotten all confused with settings. I have no idea where Kirghizia is and did not realize until after wards that it was set against the Finnish Civil War. Plus turning the captain into a mythical man-horse-suitcase with wings, was just a bit of a stretch for me to grasp. I understood the "forbidden love" part with the young Kirghizian boy, but I was just too confused by the mythology aspects of the story to keep involved with the visuals for its near thirty minute length.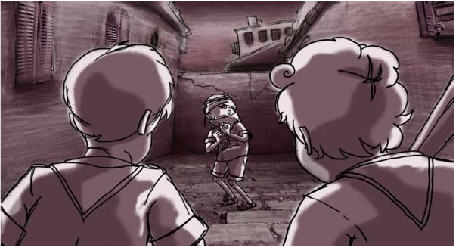 THE HEART OF AMOS KLEIN (dirs. Michal and Uri Kranot, Israel 2008, 15 min) As the program notes describe: "Hand-drawn, live-action and archival footage combine to explore significant moments in the history of Israel from the perspective of an aged senior army officer." What it does not mention is the art is exceptionally suggestive of Bill Plympton's work. The script is non-linear enough that I was confused, even though there were intertitles for each segment. It seems to be an attempt to reverse engineer on man's attitude regarding the Israel occupation of Palenstine. Sort of involved and heavy stuff for a 15 minute animated short.



LIES (dir. Jonas Odell, Sweden 2008, 13 min) Using three types of computer animation (flash, hand drawn and rotoscope) to illustrate three stories of liars - a corporate thief, child who took money from his, and a mother who is a drug addict. His design is so spectacular at points, that I was more interested in watching than listening. And these lies were a bit complicated to begin with, so paying attention is a must!


THE BOYS: THE SHERMAN BROTHERS' STORY (dirs. Gregory V. Sherman, Jeffrey C. Sherman, US/England, 2009, 100 mins.) Ok, I will admit that I walked into this selfishly expecting a warts-and-all-VH1-Celebrity-Biography trash down! Well, as the lights dimmed and the Magic Kingdom made its presenting presence known, I immediately sat back, shifted gears and awaited the 100 minute corporate fluff piece. Though the film was the genesis of an idea between two of the sons of the Sherman brothers (who were RARELY allowed to see each other even though living only 7 blocks away) after meeting at the opening of the stage production of CHITTY CHITTY BANG BANG in London. They wanted to explore why the families are so estranged from each other. Well, it would seem that the brothers don't really want to talk about that. Or the Disney people would rather talk about their Oscars. In either case, if you are a fan of the Sherman Brothers' work, particularly during the last hurrah of the Disney Studios, then there is more than enough material to send you into nostalgic haze and there are some nifty bits of trivia that do get exposed along the way. (No spoilers here!)

However, in particular to the SFIFF World Premiere Screening at the Letterman Center, there is a reception at the yet to be opened Disney Family Museum in the Presidio after the film. The EVENT makes this more than worth the opportunity to attend. I am also certain that one if not both directors will be present for what could be an exceptionally enlightening Q&A that might fill in some of the holes of the film. The film itself is fine and would actually be a nice bonus disc addition to a yet to be released DVD collection of something. The film presentation at the Festival could be a not to be missed event!



Maxxxxx says
re PHOTOGRAPH OF JESUS: [Maxxxxx attacks cameras, if possible]
re THE BOYS...: "Doobie doobie dooo-oooo!" [currently "doobie'ing" along with "We've got to Boogie" from BILLY ELLIOTT]