Another Hole In The Head, two weeks of sci-fi, horror and fantasy, runs June 5th through June 18th, with screenings at the Roxie Film Center, 3117 16th Street (at Valencia) and live performances and events at CellSpace (2050 Bryant) and Great Star Theater (630 Jackson). Tickets and additional info at WWW.SFINDIE.COM.

Another Hole In The Head has an emotional and qualitative rollercoaster programmed for its third day, Sunday, June 7th.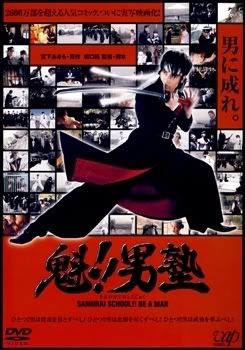 Of the various live-action adaptations of manga at this year's festival, I found BE A MAN! SAMURAI SCHOOL (Sakigake!! Otokojuku) (dir. Tak Sakaguchi, Japan, 2008, 111 mins.) to be the most enjoyable, if at least accessible, for what it is - a live action cartoon. Tak Sakaguchi's directorial debut, which stars himself, is actually pretty impressive. Some of the humor, or perhaps the satire of Japanese machismo, might be lost in translation, if not in the style of a manga adaptation. In other words, it walks the fine line between satire and camp. Initially, I was not too sure whether this was just another silly samurai movie, or whether it was intentionally being humorous. However, Sakaguchi's script is surprisingly well paced and balanced, so that by the time we reach the climax, whatever silliness that occurred in the earlier sequences has been exposed as the comedy it was, and taken over by a well thought out sequence of drama and action. There are moments during the "3 Great Astonishing Assaults tournament" that are surprisingly moving, as well as truly gorgeous to look at. Sakaguchi is an ex-underground street fighter, who has apparently found a new vocation and it will be interesting to see where he goes from here.


I am not sure what the hunkered down HoleHead audience is going to make of this feature, as it is sandwiched between two polar opposite programs. THE DEAD OUTSIDE (dir. Kerry Anne Mullaney, UK, 2008, 86 mins.) is the first of the nineteen features in this year's festival that I have almost nothing positive to say about. I recognize that its aim is to present such a bleakness that even the characters can no longer stand each other, but I really did not need to experience it with them. How it manages to create a romantic triangle out of this hideously gray and infected setting sort of escaped me. Probably because I found the characters involved either so unlikeable or underdeveloped, that I really did not care. In fact, I found myself eagerly anticipating the obviously tragic outcome, if just to be relieved from the insufferable misery of it all.

Unfortunately, the next feature is miserable, but in a completely different direction.
SEX GALAXY (dir. Mike Davis, US, 2008, 78 mins.) is simply 58 minutes too long. The sophomoric joke of redubbing dialogue has been done and with much more panache and wit than this film even touches upon. It is also being lauded as being a "green film" as it is compromised of "100% recycled stock footage". "Found footage" has been used many times before, and overdubbing an entire film was almost too much of a challenge for even the comic genius of Woody Allen in his WHAT'S UP TIGER LILY? If anything, this comes closer to a feature length, adult, soft core porn version of a MST3K episode. Yes, some of the lines are very funny, but it's sort of like being the only sober guest at a party filled with stoners: it is just a long night and you're not really in on the joke.

It is preceded by a much wittier piece.
MAROONED? (dir. Ryan Nagata, US, 2009, 14 mins.) is a B&W take off on 60's sci-fi TV series, though it is actually a group of sci-fi geeks in a role playing game that goes bad! The cinematography is exceptional, but the score by Douglas Romayne is HUGE and actually challenges any of John Williams' work during that period, i.e. LOST IN SPACE. Overall, for a student film from USC, it's pretty impressive!


The next short subject,THE WIGLY (dir. Victor Bonacore, US, 2009, 6 mins.) is a fairly low key music video. From the program notes: "The WIGLY" stands for THE WAY I'M GONNA LOVE YOU, and it's about how far you would go for love. Would you kill for love?" Though I did not find it that dark, it is sober enough that it is a fairly nice preparation for the accompanying feature.


THE HORSEMAN (dir. Steven Kastrissios, Australia, 2008, 94 mins.) Oh. My. Gawd. Director Steven Kastrissios seems to want to challenge Gasper Noe for the title of "Most Humorless and Violent Director EVER!" And I mean that in the most positive way! THE HORSEMAN is a harrowing experience. The extreme violence, which could have made me giggle, instead had me peering between my fingers. Death by crowbar is not a pretty thing, and torture with fish hooks is even more disquieting. Peter Marshall portrays the vengeful, grieving father with such earnest ferocity, that there is nothing funny or absurd about the punishment he inflicts. As violent as the film is, the emotional power of Marshall's performance keeps it from becoming exploitative. It is both horrifying and vindicating in the tradition of the best revenge dramas. In fact, the film is nearly Jacobean in scope and passion. It should bring the audience to wincing, moaning squeals of discomfort. The film is definitely not for the squeamish, but deserves to be seen by an exceptionally discerning audience.


Maxxxxx says
re THE DEAD OUTSIDE: "Is it bedtime?"