Frameline33: San Francisco International LGBT Film Festival, the world's premiere showcase for lesbian, gay, bisexual and transgender cinema, runs June 18-28, 2009, with screenings in San Francisco at the historic Castro Theatre, Roxie Theater and the Victoria Theatre, and in Berkeley at Rialto Cinemas Elmwood. Tickets are available via the website 24 hours a day, via fax, or in person at the Frameline Festival Box Office Counter.

The films in this program of narrative short subjects are about, by, for bisexual men and women. It screens once: Wednesday, June 24, 7:00 PM at the Roxie Film Center. The program is listed in order as presented via screener and subject to change and includes:


BUS STOP (dir. Ruba Hatem, UK, 2008, 14 min.) A triangle that nearly crosses into farce as he and she are unwittingly having an affair with the same woman, due to their daily meetings at a bus stop. The situation would suggest a bigger payoff at the end, however, given the assumed budget and time constraints, Ruba Hatem has created an overall pleasant, if not bittersweet story. Perhaps she will develop it into something feature length?


ALLISON, MY LOVE (dir. Richard Paro, USA, 2008, 2 min.) Ah, self absorption knows no sexually oriented bounds! It is an extremely short, but effective presentation of a joke that could only be on film. Could it be expanded upon? Probably not, but it's good for a quick laugh.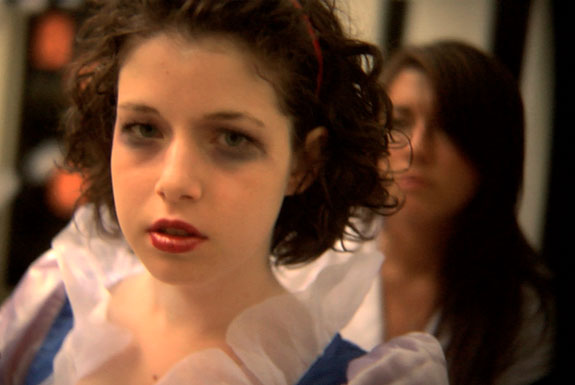 RECESS (dir. Davyde Wachell, Canada, 2008, 14 min.) Oooo...! Bad, bad girls at a Catholic school! The short provides high production values and cinematography. The cast seems a bit physically mismatched, which is sort of odd for me to explain. Perhaps since the trio crosses Hollywood stereotypes, seeing these three distinctly different "types" interact so closely is unusual. Also, I got a bit confused with the dynamics between the three girls. Then there is the issue of one of them being a "cutter". In the end, I was just confused. However, given all that, there is quite the filthy-mouthed fight in the midst of it all, which was strikingly unusual. That was something I was reminded of during a check-in with the Frameline publicity office, which was screening it at the time. Otherwise, I sort of forgot about it...


BEST FRIENDS (dir. Andi Meiers, Germany, 2008, 5 min.) There really isn't much else to say about this than what the Frameline program does: "Based on old super 8 material, this movie about being 15, living in a small town and being best friends." I am actually not exactly sure why it is included here.


HOLY WATER (dir. Tatiana Lamela-Rabell, Puerto Rico, 2009, 12 min.) I can not remember the last time I saw a film produced specifically from Puerto Rico, so I don't want to be dismissive, but... This is pretty much a soap opera, involving virginity, Catholicism, the wrong guy and the right girl. Apparently. It needs to be really fleshed out to avoid the melodrama.


FLOTSAM (dir. Michael Curtis Johnson, USA, 2008 , 23 min.) This is an exceptionally, deliberately paced drama centering around a female Naval officer and her search for an AWOL officer, which leads to her own introspection. It is pretty bleak and, though there is an attempt at humor with the extremely WASP parents of the missing officer, their characterizations are pushed to such extremes in the midst of all the bleakness, it just isn't funny. However, the film does have the production values one might expect from the well equipped American Film Institute, of which this is a Masters Thesis Project.


THIRTEEN OR SO MINUTES (dir. William Branden Blinn, USA, 2008, 14 min.) [This is also included in the FUN IN BOYS SHORTS program.] A pair of straight boys seem to have just had a night of... "exploring"? It's all sort of sweaty and more than a bit nice to look at, but... they're talking like girls after sex. And the cinematography is just "off", as faces fall out of frame. There is a LOT of dialogue, which leads me to believe it is an adaption of a one act play. No real movement or action, but face to face talking... It could have explored some much more enticing, if not intimate possibilities.


MAKE A MATE (dir. Jennifer Jordan Day, USA, 2009, 4 min.) One of the few and rare animated submissions, this stop motion with wire dolls and miniature pieces may lack in smoothness, but it makes up for the process of working with such small items! It's a cute little film with a slightly androgynous bent. Though I can only imagine the concentration and effort it must take to create a piece like this, I hope that Jennifer Jordan Day considers continuing and expanding her technique.


SHAFTED (dirs. Allegra Hirschman, April Hirschman, USA, 2009, 10 min.) [This is also included in the FUN IN GIRLS SHORTS program.] It's a quirky little comedy involving the property rights of sex toys after a lesbian break up. The femme lesbian Lindsay finds that her ex has taken all of her sex toys and she seeks restitution when she learns "that it is commonly accepted that femmes get "the shaft" when it comes to post-breakup sexual property." The pacing is a bit off and there is a very odd bit about dildo recycling (I think? - I almost wanted to stop and rewind on that one!). So, criminal activity becomes involved, which lends itself to some fun butch-femme dynamics, in that sort of homage to CELL BLOCK H way! Oh, and the end titles and song (uncredited) are a hoot!


Maxxxxx says
re ALLISON MY LOVE: "What's your name?"