Frameline 33: San Francisco International LGBT Film Festival, the world's premiere showcase for lesbian, gay, bisexual and transgender cinema, runs June 18-28, 2009, with screenings in San Francisco at the historic Castro Theatre, Roxie Theater and the Victoria Theatre, and in Berkeley at Rialto Cinemas Elmwood. Tickets are available via the website 24 hours a day, via fax, or in person at the Frameline Festival Box Office Counter.


MAKING THE BOYS (dir. Crayton Robey, USA, 2009, 90 Mins.) Though it is simple to describe as a documentary about the creation of the play THE BOYS OF THE BAND, director Crayton Robey has done an extraordinary amount of research to place it, as well as its author Mart Crowley, in historical perspective. In fact, he has the seeds of a multi-part documentary here: a biography of Mart Crowley; the culture at the time of the creation, development and production of the play; the play itself; the cultural reaction to it; finally, the film and reaction to that as well. Though it's running time is only 90 minutes, it does feel a bit longer, as Robey attempts to cover so much ground. However, it would appear to be necessary, as his prologue includes a series of man-on-the-street surveys with Gay Pride participants who surprisingly have never even heard of THE BOYS IN THE BAND, much less seen it or even value it's significance for gay visibility. It is an entertaining and exceptionally educational documentary, even as it screened here as a "work in progress." During the following Q&A, which was sort of a mess, I have to admit that even I contributed to the semi-chaos, when I asked how long he had been filming since he included the deceased Edward Albee. Uh, Albee is still alive... Ah well... (Oh, the answer was approximately two years.) There was also an extensive 'discussion' from the audience from Bay Area Reporter film critic David Lamble about the availability of William Friedkin to discuss the film. I think he might be 'legally tied' to the DVD extras to comment in a separate documentary, though. (As K.C. Price was about to introduce the director and film, my friend Andy noted that he needs to work on his "ums" during his speaking. From that point on, that is all I heard! Damn you, Andy!!)

I attempted to follow the screening with the next program, El Niño Pez, from the director of XXY. However, I fell asleep during the first few minutes. I was out so deeply, that when I woke up, I had no clue what was happening and decided to pop back home for a REAL nap to get ready for the evening.



FIG TREES (dir. John Greyson, Canada, 2009, 104 Mins.) This is a work of ART. I absolutely LOVED it, though I understand why a few people walked out. It is self described as a "doc-op about AIDS, pills and Gertrude Stein" and that probably sounds as hideously pretentious as those who walked out may have felt it was. I was completely taken away and transported by its operatic ("doc-op" is short hand for documentary-opera, I believe) structure and the music (composed and adapted by David Wall) that ran nearly the entire of the film, which included a great deal of Stein and Virgil Thomson's Four Saints in Three Acts. Director John Greyson treads treacherously into Peter Greenaway territory with his over abundant use of split screens and subtitles, which at one point become graphic art in themselves. It may seem a stretch at first, but think it bears repeated viewings to understand how he relates musical palindromes of classical, modern-classical and pop music to the ironic plight of AIDS patients, as they face pharmaceutical and governmental structures that seem intent on keeping them from obtaining treatment. The cinematography by Ali Kazimi, Jesse Rosensweet of Bill Layton's production design
is beautiful and seamless between the two of them. I assume one was responsible for the operatic sequences and the other for the interviews. Ah, the interviews. The documentary portion include interviews of a number of activists, most extensively with Zackie Achmet (who is the central figure of the operatic sequences), Tim McCaskell and Gugu Dlamini, among others. The concentration of the documentary is really upon Africa, however it does relate to McCaskell's work in Canada. There was a moment towards the last quarter of the film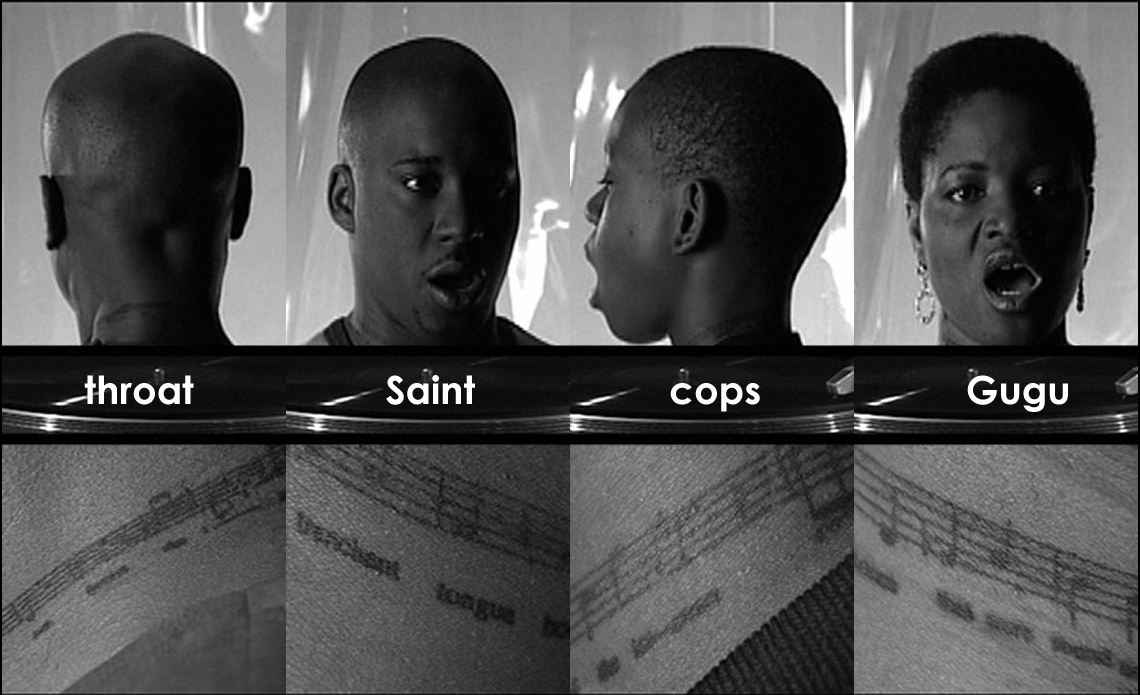 that I began to become emotionally and physically moved by the weight of all the preceding painful beauty of the piece and actually started to become choked up! Though Greyson's work can be a hit (LILIES), miss (PROTEUS) or mixed (ZERO PATIENCE), this has pulled the best techniques and qualities he possesses to create, what was for me, an extraordinary experience!


Maxxxxx says
re both films: "Dooby dooby dooo-oooo!"