Frameline 33: San Francisco International LGBT Film Festival, the world's premiere showcase for lesbian, gay, bisexual and transgender cinema, runs June 18-28, 2009, with screenings in San Francisco at the historic Castro Theatre, Roxie Theater and the Victoria Theatre, and in Berkeley at Rialto Cinemas Elmwood. Tickets are available via the website 24 hours a day, via fax, or in person at the Frameline Festival Box Office Counter.

My afternoon was preempted by a matinee of PORGY AND BESS at the SF Opera, so I was able to only attend two features.


The first program was preceded by the short I WAS A TEENAGE RUMPOT (dirs. George and Mike Kuchar, USA, 1960, 12 mins.), which they made when they were eighteen and it was a perfect way to enter IT CAME FROM KUCHAR (dir. Jennifer M. Kroot, USA, 2009, 86 Mins.) This is a biography of the twin brothers, George and Mike Kuchar, who are generally regarded as pioneers in underground film. There is a generous amount of footage and photography of them as boys, as they began making movies when they were twelve. Their childhood stories are as amusing and surreal as their shorts. (They trained a parakeet to run on an LP player, even at 75RPM!) They are credited as the inspiration for John Waters and Atom Egoyan (who both receive a nice amount of screen time), Andy Warhol and even the production of BARBERELLA! Mike retired to painting and illustration. However, George continues to make short films with his students at the Art Institute in San Francisco. The footage of him and his students is filled with joy and an innocent enthusiasm which belies the twisted content of the productions themselves. There was also extended discussion of the 1975 'epic' THUNDERCRACK!, which will be screened later in the week.


Since the brothers were presented with the Frameline Award (by Christopher Coppola), the director was present, along with the brothers and a dozen other people involved with the Kuchars for a panel Q&A. Ironically, as charming and magnetic as I found the Kuchars to be, director Jennifer M. Kroot was their opposite. I found her to be sort of cold and disinterested in her subjects, and even during her introduction and as she began the panel, she thanked an army of supporters, but never mentioned the brothers themselves. Though I began the panel, her odd attitude only encouraged me to run down the street for the next feature.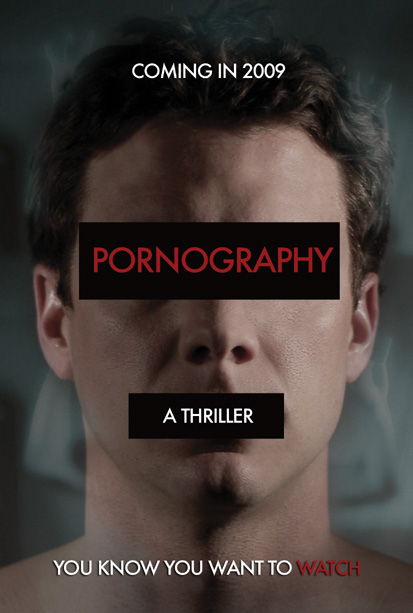 PORNOGRAPHY: A THRILLER (dir. David Kittredge, USA, 2009, 113 Mins.) Hm. Well. I have some very mixed feelings about this. The plot transpires in three acts, really. The first two were creepy, intriguing and actually gave me a start! The cast was requisitely handsome, as the majority are playing porn actors who are victims of an underground group of snuff film producers. The imagery of the murders is particularly nightmarish! The increasing dread during the second act is ably executed and performed. However, in the third act, the attempt to tie the three sections together is subverted by a single moment, a single cell phone call to be exact, which blows it out of the water and into the "we're just playing with your heads!" territory, in that faux-David-Lynch way. Also, the third act is a bit undermined by having the most unlikeable character appear to deal with the climax. And here is sort of the rub. By having divided the film into three distinct sections, and by keeping the "villain" in the shadows as it were, what could have been mounting suspense and fear is stuttered and halted. However, director David Kittredge is also partly responsible for SOCKET, which I also nearly loved, so I think Kittredge is someone to keep an eye out for. He was present, along with most of the cast, and was just maybe a bit too pleased with himself. (I know, why should I hold that against him?) In other words, yes, the film has sold out its screenings, but then, if you submit a film called "PORNOGRAPHY" to gay film fests, the title sells itself.


Maxxxxx says
re both films: "Sweet, sweet eye juice!"