Well, towards the end of what could be considered a shitty week in the City (a freakin' $75 parking ticket for being 1 foot over the 'red zone'; $400 to repair the car after it was broken into; $100 to replace the Sirius Radio they stole), I spent the majority of the weekend at the Castro Theater watching flicks at the





24th San Francisco International Asian American Film Festival, so you can take the following recap of the first half of the festival with a large grain of salt.

I managed to see 5 features and a handful of short subjects, and had a TOTAL GORGEFEST for St. Paddy's Day with the East Bay'ers (Jaryn, Pete, Gretchen, et al) on Saturday and a FAB brunch with friends Daren and Alan on Sunday. It was also sort of a "homecoming weekend" as I regrouped with most of the other film-sluts that I'll be 'living with' during the SFIFF and Frameline's LGBT Film Fest!

To begin, just a brief note regarding the Executive Director of the Festival, Taro Goto. He seems like a nice enough person, but... He babbles. I found his introductions of the programs hard to follow as he tends to digress in his analysis of the director's filmography that I don't know if he is referring to the film we're about to watch or is off on some historical tangent. ANYWAY..., in viewing order, let's begin with Friday night (I did not go to Opening Night on Thursday):


"Citizen Dog" ("Mah Nakorn") (dir. Wisit Sasanatieng, Thailand, 2005, 100 mins.) is being publicized as Thailand's "Amelie." Well, it does have extensive narration, a bright palette in the production design, and a fantasia of plot developments. The cinematography just POPS off the screen, and the music score is charming. Some of the 'bits' and sequences are at the very least clever and at some of their best, inspired! When the visuals reflect the characters' dreams and fantasies, that is when they are at their BEST! Our lead, Mahasmut Bunyaraksh, is basically a farm boy who has come to the big city (Bangkok) against his grandmother's warning ("If you get a job in Bangkok, you'll wake up with a tail wagging out your ass"), to find love and fortune. And thus,surrealism and attempted (and sometimes achieved) hilarity ensues. He becomes obsessed with a cleaning woman where he works. Now, here's where I started having a bit of a problem. I found her to be so much more appealing than our lead male, that it threw the balance of the screenplay off a bit for me. He remains sort of a dull cipher throughout the film. (He doesn't even speak for the first 20 minutes!) On one hand, his introversion explains his extreme flights of fancy. However, the narration almost annoyingly takes the place of any inner charm that he might possess. Since the comparison was made, one of the major reasons that "Amelie" worked for me is that Audrey Tatou was allowed to say VOLUMES with just a glance and a wry smile. Bunyaraksh is either incapable or not allowed those moments here. Maxxxxx says, "Sweet, sweet eye juice!" (I don't know, but I think he likes the visuals.)


"Rules of Dating" (dir. Jae-Rim Han, South Korea, 2005, 114 mins.) so painfully depicted my (limited) dating history, that I find it hard to recap. Yes, it was humorous at first, and then descends into discomfort before plummeting into pain, as a couple navigate dating and intimacy in botched attempts to find love. The spiral that they take is realistic and not romanticized. I loved it! (Even in the CHILLY Castro Theater, which needs to repair their heating!) Maxxxxx says, "I love you!" and then bites my hand.

Saturday morning presented the shorts program entitled, Confessions of Longing, a collection of 8 films. I could only sit through 5 of them. They seemed to be focused on lesbian/gay/transgender issues. But they're not happy issues, apparently. OK, that's an understatement. This group of shorts was just miserable. For example, in "Porcelain" (dir. M.R. Stiff, USA, 2005, 4 mins.) a young Filipino guy bemoans the idea of being fetishized by hunky white men. My answer to that would be to enjoy it while he can! Poor thing. bleh! There was also a documentary about a group of mixed-race Filipino lesbians who have traveled to Manila to 'reclaim their heritage and language,' aka learn Tagalog. Yawn. I don't even want to get into the other three! Maxxxxx says, "Wanna come out?!"

Thank GAWD that I had the East Bay St. Patrick's Day GORGEFEST to go to and get me outta there! (Somewhat unfortunately, I so over indulged that I was swimmingly nauseous on the way home and ditched the rest of the day to just go home and lay down.) I did recover and was able to have a fabulous little brunch with Daren and Alan at 'Blue' on Sunday morning, I started the day with:


"Bridge to the Sun" (dir. Etienne Perier, France/USA, 1961, 113 mins.), which is part of a tribute to actor James Shigeta. The film is based on the book of the same name, which is the autobiographical story of Gwen Tarasaki. She was a Tennessee woman who married a Japanese diplomat just a few years before World War II. The story itself is really pretty compelling. And Carroll Baker as Gwen was her fabulous self! There were some masterfully composed images! (There are also some embarrassingly bad sets.) However, between the complex story, Baker's incredible performance and Shigeta's on screen charm, the flick was a winner! It's worth the rental! But, pity! It is NOT available in any video format. Mr. Shigeta was present for a Q&A. However, the 73 year old actor was having some problems hearing and understanding some of the questions (thanks to Mr. Goto!), so that was cut off short. Maxxxxx charges to his kitchen cubby hole, as if he were being bombed.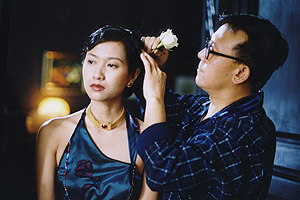 "Letter From An Unknown Woman" (dir. Jing Lei Xu, China, 2004, 90 mins.) is a Chinese version of the novella by Stefan Zweig (which Max Ophuls filmed in 1948). Though a bit heavy on the narration (a pet peeve, if you haven't noticed), the production design and particularly the cinematography (Pin Bing Lee ("In The Mood For Love") was exceptional! Jing Lei Xu directs herself as the woman suffering from 20 years of unrequited love and she expresses that in a letter to the object of her affection, to be read after her death. I wasn't so much moved by this as fascinated by the era it was set in: 1930's China. Though it is capably produced, I can't say I was overly involved. Ah well. Maxxxxx yawns.


And finally, the 'Centerpiece Film' "Water" (dir. Deepa Mehta, India/Canada, 2005, 114 mins.), the last part of Mehta's 'elemental trilogy' following "Fire" and "Earth." It is gorgeously photographed (Giles Nuttgens), scored (A.R. Rahman and Mychael Danna) and features a bearably cute 8 year old Sarala and a nearly unbelievably gorgeous pair of ill-fated lovers (Lisa Ray and John Abraham). The story is set in 1930s India and centers on an ashram of widows, who are social outcasts and are denied nearly any contact with men, much less any future romantic involvement. The 8 year old is something of a go-between that brings together our nearly unbelievably gorgeous lovers-to-be. There is cuteness, pathos, tragedy and a certain cheap sentimentality that borders on Spielberg-ian. I LIKED watching it, but felt cheaply manipulated by the end. I did not stay for the Q&A with Ms. Mehta, as the film ends on a political/feminist note and I just wasn't in the mood to hear more unnecessary proselytizing. Maxxxxx says, "Time for shower!"

I'll be catching the next 4 nights of the festival at the AMC Kabuki and recap that on Thursday night. Maxxxxx says, "Breakfast? Breakfast?"