Though my friends in San Francisco will be staying home for Halloween, I've been and will be out and about! Halloween in Atlanta sort of began for me on Saturday night at the Plaza Theater which presented the 'regularly scheduled' (as in every last Saturday of the month) performance of the Silver Scream Spook Show, with your hosts Professor Morte and his assistant, Retch. For those of you in the know, this ably compares to an evening with Peaches Christ, but a straight-non-drag version. Also, the performance before the film seemed a bit tame, but that might have been due to the expectancy of kids in the audience, since this was the 'Halloween show'. Morte proves to be a fairly good host and star of the night, and Retch (think of Peaches' sidekick Martiny)
is so totally committed to his role, that he is a total hoot, even when delivering some of the purposefully lame jokes. The rest of Morte's cast, including the girls of "Blast Off Burlesque", are suitably 'off' in that midnight movie way. I won't go into the details of the pre-screening skit, except to note that Morte is quite devoted to the Plaza Theater and its unique spot as one of the VERY FEW independent screens in the Atlanta area. It is comparable to the Roxie in San Francisco as far as programming, but at nearly three times it size and includes a second screen in the former balcony. Morte closed the pre-show with a spirited speech about the place of independent film and the Plaza's mission to deliver it.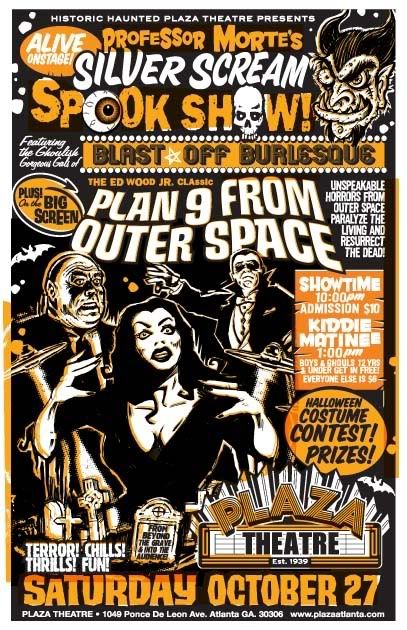 The screening was of PLAN 9 FROM OUTER SPACE (dir. Edward Wood Jr., US, 1959, 79 mins.) in full, big screen and colorful glory! It has been YEARS since I've seen 'Plan 9' in a theater. In fact, I've seen so many parts and tributes to it, that I'm not even sure if I had seen it in its entirety at all! I've sat through so many truly BAD low budget features in the past few years, that this really didn't seem that horrible. Yes, the production values are nearly non-existent and the talent of the cast can be questionable, however, Wood's direction and particularly his editing and pacing, are more than tolerable and actually, under the circumstances, quite good! There is a dedication by all those involved that give the movie a wild eyed innocence, even if it is about a government cover up of an alien invasion. You can tell that everyone is giving it their all, under Wood's direction. There are no amateurish 'diva moments', but an ensemble that is struggling to deliver a director's vision, with what few tools they may have available. It is worth a second look and WITHOUT the 'puppets' delivering commentary in front.


Two nights later, the Plaza hosted Splatter Cinema's programming premiere of BLOOD FEAST (dir. Herschell Gordon Lewis, US, 1963, 67 mins.). Splatter Cinema is devoted to presenting its series of films from 35mm prints! So, this was a definite RARE occasion to see one of the great cult flicks of all time! I am a "Blood Feast" version, as it were. I've heard much about it, as it was considered the goriest thing ever put on film, at the time. It also featured Playmate Connie Mason, as potential jiggle factor and the psychopath's ultimate prey. Ironically, it isn't she who jiggles, but the first victim who does, with tastefully placed bath bubbles, barely revealing her breasts. The gore IS abundant, but so over the top that it is a hoot! (As a gag, even the box office issued a 'complimentary barf bag' to everyone in the audience.) What was really scary, was the performance of the cast. These people are TERRIBLE!! But nearly hysterically so! H.G. Lewis seems to have told them to GO FOR IT!! Connie Mason's breakdown at the end, in which you can tell she is PROUD to have produced REAL TEARS, is almost scary to watch, since she is forcing herself out of control. Mal Arnold as the murderer, is really bad. He's almost not even 'funny bad' but unwatchable bad. Not to be outdone by the performances, there isn't a single element of the film that is redeemable. The production design is cardboard tepid, the cinematography attempts 'day for night' in a truly amateurish manner, the editing is sluggish at best and comatose at its worst, the costuming is ludicrously beyond camp and the makeup design (including gore effects!) are at a high school level. It is the product of a dozen negatives equally one glorious positive! The movie is that rare find: TRUE SCHLOCK!! Watching it on a 35mm print, with scratches and fading, only enhanced the 'grindhouse effect'. It was a FUN night and one I can't wait to repeat next month!


So, with those nifty Halloween experiences under my belt down here, what to do for the BIG DAY itself?! Go to the Netherworld Haunted House here in Atlanta! Ranked as one of the nation's best Haunted Houses, the roommate/etc. has been on me to go for a couple of weeks now. We decided to try Halloween itself, though it might be packed! Maxxxxx will have nothing to do with it, but Belle is all dressed up to go, though she's too young...
CLICK HERE for more...