SFIndieFest's 2007 [Another] Hole In The Head continues at the Roxie in San Francisco. I've been fortunate enough this year to have access to previews of nearly the entire festival (since I'm in Atlanta, now), and I'll be posting 'previews' two days in advance of each day's screenings. Woo hoo!

Saturday, June 2, is Day 2 of the SFIndieFest's Another Hole in the Head festival and features an exceptionally strong line up of screenings! If I were in town, I'd check in at 3:00 pm for "Animation Program 1" of animated shorts (none of which I've seen, but I would if I could!) and snuggle up for the rest of the day, and not leave until way past 1:00 a.m. after "Forbidden Zone"!


After the animated shorts is the animated feature, "Aachi & Ssipak" (dir. Joe Bum-Jin, Korea, 2006, 90 mins.). The setting is in the future where human excrement is used as an energy source and people are rewarded with an addictive treat for supplying more than their share of excrement. Thus, a new 'mafia' of mutants has developed in order to control these treats. Needless to say, I LOVED this!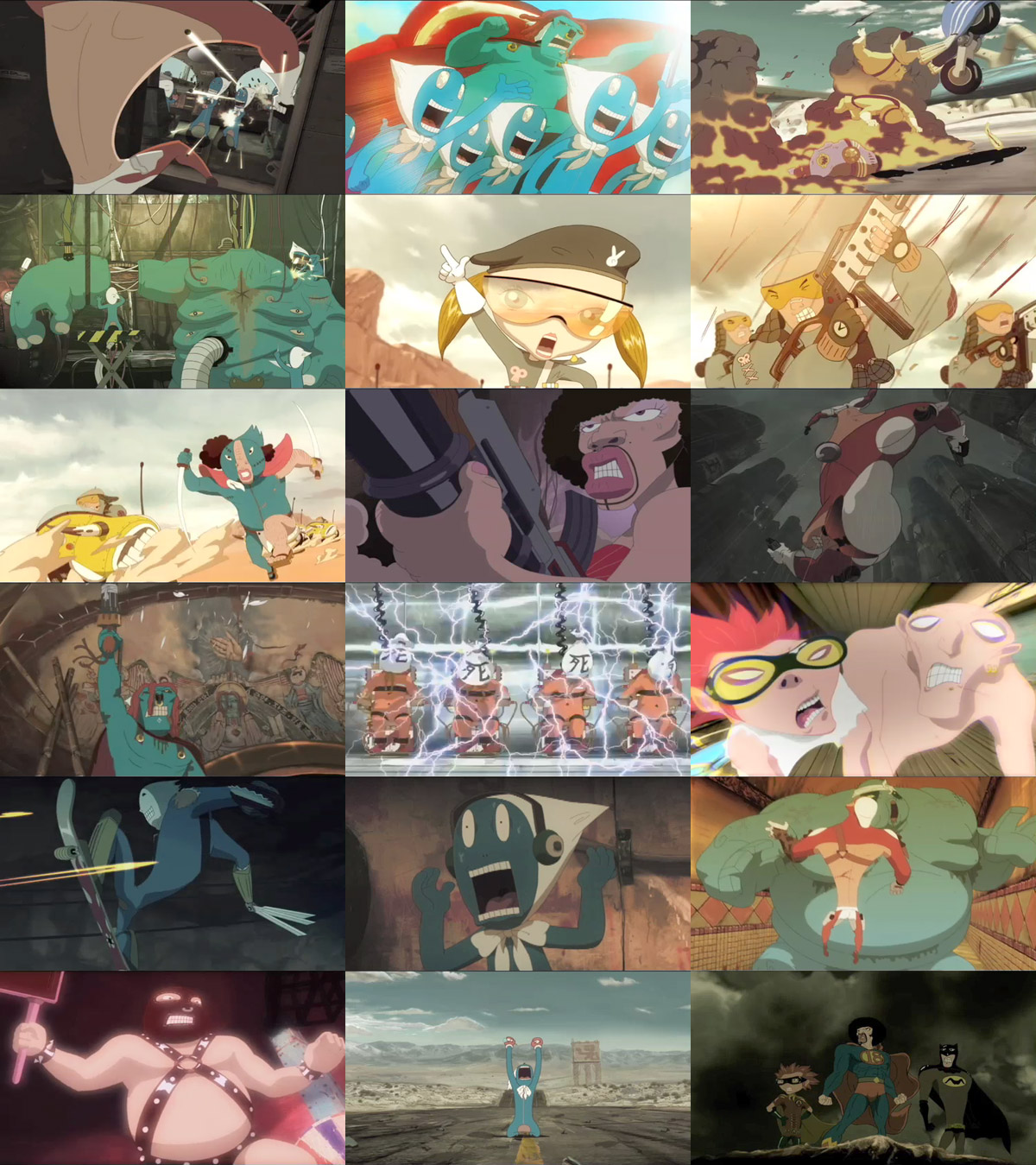 Not only was the subject wonderfully sophomoric, but the animation is a technical marvel and the artwork had some truly beautiful moments! Admittedly, the script is a mixed bag, as it feels a bit too episodic at points, as if it were a series compilation. I was not bored, but it does feel a bit long. Yet, each sequence does have an extraordinary climax of one sort or another. I'd love it if it WERE a series!


A really nifty transition from an afternoon of animation to later pieces of horror is "Small Town Folk" (dir. Peter Stanley-Ward, UK, 2007, 90 mins.). Peter Stanley-Ward has created a truly original piece! A group of unrelated individuals come across 'Beesley Manor', in an apparently remote English countryside. There is a set of self-identified brothers and their field workers who are on the hunt to continue the family lineage. The setting is nearly surreal enough that the film considers itself a 'fantasy/horror' flick.
Stanley-Ward's cinematography has such an eerie gloss about it, aided as well by the green-screen effects, that the unusual combination of settings (an English manor, a forest and a cornfield?) seem perfectly natural for the world he takes us into. The production design is deceptively simple and warrants closer viewing to appreciate the detail that helps suspend the disbelief of such a 'world'.


The script has such inspired moments of humor, it continued to keep me off balance as I watched. These moments are nearly minute, though they popped out at me like little diamonds! Once I started to get into the rhythm of the script, I began to spot more gems from the subtle, underplayed performances. The performances never wink at the audience, nor do they veer off into camp. At one point, I felt that the cast wasn't even in on the 'joke'. However, the cast and crew are credited with 'extra dialogue', so perhaps those inspired jabs were ad-libs?


The horror is plentiful as death-by-scythe always gives me the willies! A scythe is just such a flexible murder weapon that I never know quite HOW it is going to be used! It can gut, behead, dismember, stab, etc. And I am usually easily suckered into a chase scene in a corn field. The killings are fairly violent and graphic enough, without being cheap and cheesy, to please any horror fan.

And underscoring all of this is a marvelous score by David James Nielsen! He provides a little boost of unguarded whimsy throughout! I'd love to get a copy of it! Perhaps because I had NO expectations for this, but "Small Town Folk" (the title is actually a punchline during one of those moments I LOVED!) may well be my favorite pick of the fest!

Until I had seen "Small Town Folk", I would have claimed "Blood Car" (dir. Alex Orr, US, 2006, 75 mins.) to be my favorite pick of the fest, if just for its utter JOY in the filmmaking process! I was able to see it at the Atlanta Film Festival this spring and I will just repost/requote myself here:
"Blood Car" has all the ingredients of an instant B-Flick classic! Even a tag line: "Save Gas, Drive Bloodcar!" It is the near future, "maybe only two weeks from now", and gas is $32.33/gallon. Only the untouchable wealthy can afford to drive a car. So our little vegan kindergarten teacher is devising a machine that runs on wheatgrass juice.
That is until he accidentally cuts himself and some blood gets in the mix. In a twisted and nearly inspired mix of "Christine" meets "Little Shop of Horrors", the machine must be fed in order for our hero to get laid! It's cheap (only a $25,000 budget), it's racous, it's bloody and bloodier! I laughed out loud more than a few times and LOVED it! "Toss 'em in!" should be it's battle cry! Woo hoo!


This remarkable second day at Hole In The Head ends with a nearly 'gala screening' of "Forbidden Zone" (dir. Richard Elfman, USA, 1980, 74 mins.)! With the promise of director Richard Elfman being present, I can only speculate what a mob scene it SHOULD be to give him a due tribute in honor of this true cult classic fantasy musical. (IF you don't know, the music is by Oingo Boingo, aka Danny Elfman, et al. Danny Elfman, being Richard Elfman's brother. Oh, and Jenna's uncle.) If you have NOT seen "Forbidden Zone" then --- GO SEE THIS AND THEN BUY IT!!! Don't RENT it! That'll just be a waste of a few bucks, because you'll watch it over and over and over...


Maxxxxx says
re "Aachi & Ssipak": "Do a poop! Poopie Bird!"
re "Small Town Folk": "Sweet, sweet eye juice!"
re "Blood Car": "Wooooo!"
re "Forbidden Zone": "Doobie doobie doo-ooo!"
CLICK HERE for more...