Labor Day weekend saw the invasion of 33,000+ conventioneers descend upon downtown Atlanta for Dragon*Con, "America's largest, multi-media, popular arts convention focusing on science fiction and fantasy, gaming, comics, literature, art, music, and film." This was the first time that I have ever participated in such an event.

I loved it!

It is hugely popular, with an "official headcount" of 25,000, which is how many people are allowed to attend according to the Atlanta Fire Code. However, the unofficial attendance is estimated at approximately 33,000+. Also, due to the exceptionally cheap pre-sale tickets (you can purchase next year's tickets at HALF PRICE during the con), the actual number of admissions sold is approximately twice that - numbering around 60,000. In other words, the three hosting hotels (the Hyatt Regency Atlanta, the Atlanta Marriott Marquis and the Atlanta Hilton), which are aligned next to each other in downtown Atlanta, are PACKED for Labor Day weekend! So packed that there was more than one occasion in which the Hyatt Regency was 'locked down' and no one was allowed entrance, and the stairs and escalators were closed off to traffic going further into the hotel. (A moment of some anxiety for those of us dashing from panel-to-panel between floors.) However, as densely populated as the crowd is, the overall atmosphere is cooperative, since no one wants to be kicked out and the convenience for the majority of attendees of staying and attending in the same building is too precious to endanger being relocated to a convention center in the future.

The attendees...
OK, I will admit that the stereotypical 'comic geeks' were present. However, they were NOT the majority of the crowd. I was actually sort of surprised at the hunk-and-beauty factor that was present! Thank GAWD for that, as I feared what I might be seeing in spandex all weekend! Oh, uh, yes, there was a LOT of costuming. It adds to the immersion of the experience. It is a combination of Halloween, Burning Man and a film festival, all rolled up in one! I was able to garner some attention myself on Friday with my "Rejected" t-shirt by Don Hertzfeldt ("My Spoon is too Big!"). My other fashion choices were not as exceptional. I will be better prepared next year! Perhaps the donning of my classic San Diego Mermaid will be called for?!


My primary focus was the Dragon*Con Independent Short Film Festival, which screened nearly 100 shorts, features and a half dozen technical panels over the four days, from 9 a.m. until 6 a.m. (I didn't even shower on Sunday!) I spent the majority of the time in the Hyatt, within the "Film Track",
a couple panels in the "Brit-Track" and a couple improvisation comedy showcases. The panels I sat in on within the "Brit-Track" included an interview with David Lloyd, the creator of "V for Vendetta", panel discussions of "Torchwood" (which proved to be WAY TOO in depth than I was able to keep up with!) and "The Hitchhiker's Guide to the Galaxy", which was quaintly labeled, "Tea Time with Arthur Dent". I also attended the final competition in "Who's Line Is It?", which was truly impressive!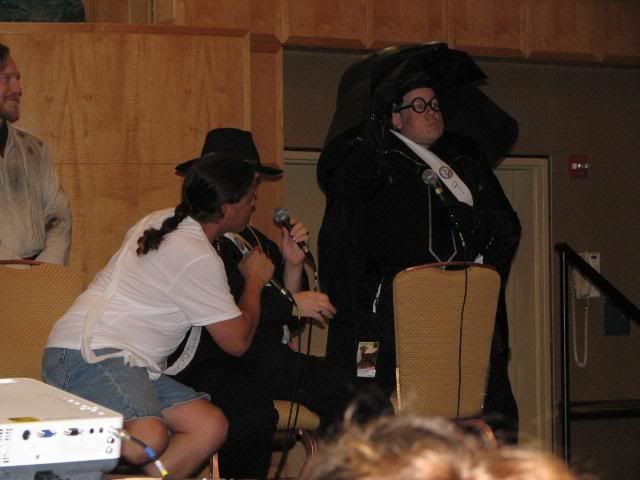 (I may HAVE to give it a go myself, next year!) Also on my agenda was the "Mr. Star Wars Contest", which started off as a hoot (having had a date in the previous year was automatic grounds for elimination!). Oh! And there was a parade on Saturday morning, which lasted about an hour or so!

The parade on Saturday morning was truly impressive! It took about an hour for the couple of thousand participants to pass by! (Point to remember: Do NOT return to the Hyatt after the parade!) I did take a couple dozen shots of the parade, until my batteries died, anyway. It seemed that this spectacle took quite a few motorists by surprise, as traffic was backed up for BLOCKS surrounding the downtown area.
It was a relatively short and entertaining hour! (And not too HOT either!!)

I also spent some time at the Masquerade and a couple of cocktail parties.
Saturday night was the only night that I attended parties. I went to the Rainbow Flag party, sponsored by the Gaylaxicon Atlanta, which is a GLBT sci-fi group. It was held in a particularly small room. However, the masses were lined up for the Battlestar Galatica party, which I did NOT try to get into. I did wander into Wolf Pack party, which had a particularly HUNKY crowd!

Back in the GRAND Ballrooms at the Hyatt on Sunday night,The Masquerade went on for nearly three hours. I was in and out of it throughout the evening, as there really isn't much else to do at the time. It is the centerpiece of the entire convention, so it seems, as it FILLS an entire ballroom and a second ballroom is used for overflow via CCTV. Some of the entries are truly impressive! Some are not.
The grand prize winners were a group that created an over-sized set of "Wallace and Gromit" characters. My personal favorite was a group that enacted a skit wherein Professor Dumbledore introduced the latest Professor of the Dark Arts to Harry Potter, which happened to be Scooby Doo! HA!! The hosts of this LONG EVENING were Kari Byron and Grant Imahara from "Mythbusters", and they did a great job, from what I saw. Especially Kari, who started getting sort of punchy by the end. (No, I don't have any pictures of the Masquerade. However, I am certain they will pop up ALL OVER in a couple of days...)

The other two hotels hosted the Dealers Room, Autographs (aka the "Walk of Fame") and the Competitions. I wandered about the Dealers Room for maybe twenty minutes, at which point the sheer volume of merchandise was so completely overwhelming that I simply had to leave. So, I wandered into the "Walk of Fame". Yes, here is where TV and movie stars of yore gather to sign autographs and get pictures taken, most for a nominal fee, I might add.
While approaching the "Walk of Fame", my face was slammed into the still massive chest of Lou Ferrigno, who was darting around the corner for a break. He looks FABULOUS!! I stopped by William Katt's table to congratulate him on "Jerome Bixby's Man From Earth", which I had the opportunity to see earlier this year via the SF IndieFest. He was quite personable and actually wanted to talk more than I expected! I also need to mention that Marc Singer is dead and his corpse was propped up at a table with a pen in hand, which animatronically signed photos. The guy (whom I had a severe crush on as the "Beastmaster") has not aged well. Gil Gerard also looks older than my father, which was a bit depressing. However, on the opposite end of the spectrum, James Marsters might be one of the most beautiful men on the planet! He looks great with a few extra post-'Buffy' pounds on him! (And, no, there are no pictures of THESE people, as there were fees attached to such activity and cellphone photos were 'discouraged'.)

The hours I spent at Dragon*Con were: 11:00 a.m. to midnight on Friday (OH! The registration process is a prolonged MESS! I will pre-register on Thursday evening next year!); 11:00 a.m. to 2:30 a.m. on Saturday (aka Sunday morning); 9:00 a.m. to 1:00 a.m. on Sunday (aka Monday morning); and 11:00 a.m. to 5:00 p.m. on Monday.

Closing day on Monday is best described by the director of the Film Track: "DragonCon enters with a roar and slithers away with a whimper." Thousands of people had checked out of the hotels by the time I arrived. And "Closing Ceremonies" were mostly anti-climatic and fairly business like in that the Tracks close with feedback sessions.

That said, it was a BUSY weekend! And one that I intend to repeat NEXT year!
CLICK HERE for more...