It was a day of Silents, Silence and Music.


I began the day with a program of silent short subjects, accompanied by the Alloy Orchestra. It was part of the "Spotlight: Family Films," and we were greeted with a bag full of noise makers so the kids could participate with the band. Yes, I know. It sounds like a recipe for disaster. Ironically, the kids were pretty quiet and it was the adults who were trying to 'participate! (It is worth noting that all three shorts are available at the Alloy Orchestra's website.)


"One Week" (dir. Buster Keaton, USA 1920, 19 min.), features the 'amazing spinning house' bit, that if you saw it, you'd recognize it. It is early Keaton, so there are some inspired moments there, but he hasn't come into full force yet. The Alloy Orchestra really suits the manic energy that Keaton creates (i.e. "The General"). This was probably my favorite of the three shorts.


"Back Stage" (dir. Roscoe "Fatty" Arbuckle, USA 1919, 26 min.) featured Keaton in a supporting role, which is a pity, as Arbuckle is just a fat clown. I've never understood his huge popularity at the time. There are a few ok bits and the accompanimentnt here was fine, though unmemorable.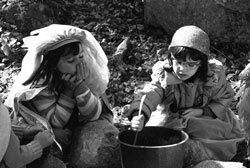 "Dragonflies, the Baby Cries" (dir. Jane Gillooly, USA 2000, 10 min.) was created specifically for the Alloy Orchestra by Gillooly, who is the wife of one of its members. Not surprisingly, this was the best match of the three, though the film itself may have been a bit over the heads of the kids. But I don't know. It's sort of poetic and dreamy and just dips it's toe into fantasy.

The next screening was of "Iberia" (dir. Carlos Sousa, Spain, 2005, 99 mins.). This was a beautiful piece of art! Sousa films several interpretations of Isaac Albeniz's "Iberia Suite" adapted by dancers and musicians. Sousa does more than just record these performances, as the cameras themselves become part of the choreography. It is so highly visual (there is no spoken dialogue), it defies adequate written description. I loved it!

I saw this with Judy and Gretchen, and we met up with Jimmy for a quick dinner before Judy and I returned for:


"The Eagle" (dir. Clarence Brown, USA, 1925, 82 mins.). The Alloy Orchestra returned to the theater to perform their original score for this Rudolph Valentino period romance. It is sort of a Zorro/Robin Hood meets Catherine the Great type spectacle. Frankly, I've never been a big Valentino fan, and this didn't persuade me. The score for it was ok. I do not understand why the Alloy Orchestra, which is primarily percussion, attempts to take on romances, which seems to me, requires a 'softer sound.' They ran into this problem with "The Phantom of the Opera" last year. They are at their best when they're banging away at comedies! Ah well.

Finally, the HFD (aka Graham Leggat) introduced the pornographic musical for the evening. He stated how much he loves this film, that this was one of his favorite films at the fest and how hard it was to get a hold of. After having seen "The Glamorous Life of Sachiko Hanai" last night, I think the HFD is a naughty, naughty man!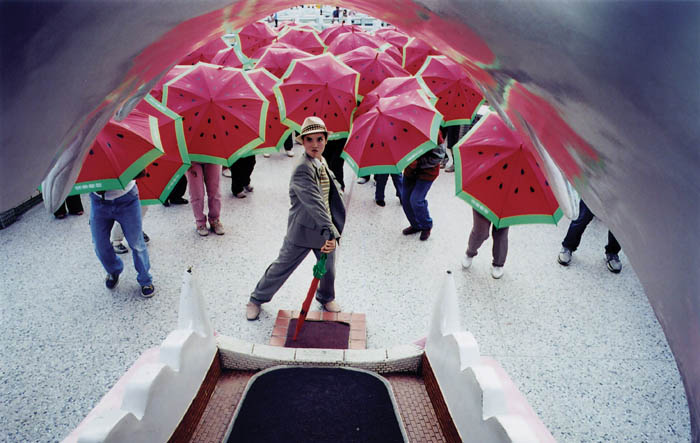 "The Wayward Cloud" (dir. Tsai Ming-liang, Taiwan, 2005, 112 mins.) looked like it may have been produced by a collaboration of Stanley Kubrick, Luis Bunuel, Ken Russell, Matthew Barney, Dennis Potter and a little bit of Vincent Gallo. However, it came from Tsai Ming-liang, whose only other film I have seen was "Goodbye Dragon Inn." This had what might be his trademark: paced so slowly, to the point of madness, and with not more than two dozen lines of dialogue during the entirety of the film! But, unlike "Goodbye Dragon Inn" the near excruciating pace is broken by some truly mad musical numbers and furious sex scenes! This thing is just going to haunt me!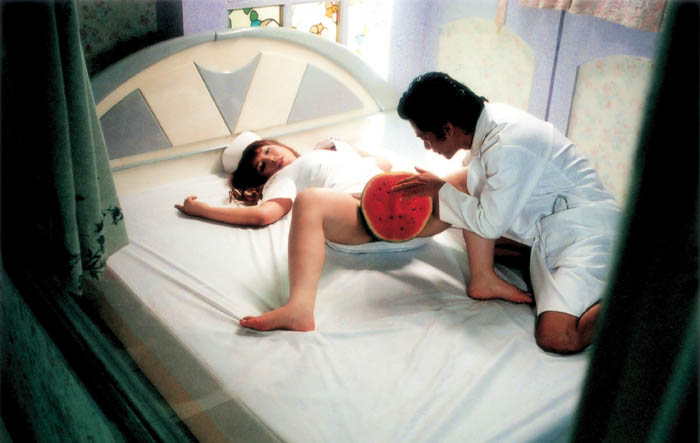 I may never be able to eat watermelon again.