I'm catching up on some of the less than stellar screenings this past week or so...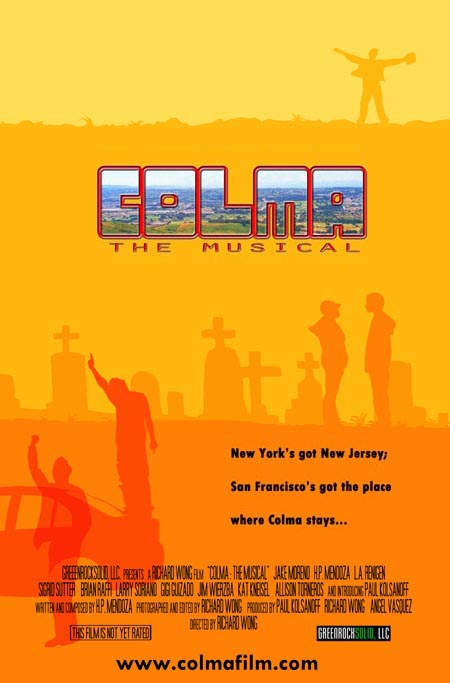 "Colma: The Musical" (dir. Richard Wong, US, 2006, 119 mins.) is technically crafted with some beautiful takes, shots, edits and staged numbers. The incredible single take of the Rush Party was remarkably staged, as was a gorgeous waltz in the graveyard. It is, however, lacking editorial discipline and objectivity to the material. It is nearly a two-man film: Richard Wong (director, editor, cinematographer, producer) and H.P. Mendoza (star, screenplay, composer) have an obvious talent, but need to 'let go' of some of their material. I thought this clever little musical was about to end at the 80 minute mark. But then... It. Kept. Going. For another 40 minutes.
It has a unique structure in which most of the musical numbers erupt from the characters' ennui regarding their lives in Colma, California, a nearly trivial suburb of San Francisco which boasts more cemetery plots than actual population. The characters have just graduated high school, which is stretching the credibility of the emotional plot lines they face, as well as the believability of the performances of the out-of-college cast. If it weren't for that detail about their ages, I would have been more convinced or at least committed to their predicaments. As it was, it played a bit like a multi-ethnic, middle-class suburban, musical version of "The O.C." This sounds a bit harsh, considering how much I did enjoy L.A. Renigen's performance as 'Maribel' as well as Jake Moreno's 'Billy'. Her monologues were fabulous.
His singing was sweet and unaffected. H.P. Mendoza as 'Rodel', completes the trio, though as sort of a sidekick, who has an emotional arc that is barely enough to fill a subplot, yet is included for a sense of drama, or to fill out the character's purpose for being included in the first place. Of the three characters, it is 'Rodel' and 'Billy' who need some cutting. 'Billy's work, acting and his three girl friends (past, present, future) are one, if not two plot lines too many. The musical-within-the-musical is cute and clever in its take-off on such productions, yet it just adds TIME to what becomes a seemingly long film.
That said, most of the musical numbers are clever, however there are a LOT of those, too. More than I can remember, which is not necessarily a good thing. But it is never embarrassing to watch and is, for the most part, cute.


"Miss Potter" (dir. Chris Noonan, UK/US, 2006, 92 mins.) is cuter, but at least shorter, though it didn't feel like it to me. Renee Zellweger plays 'Beatrix Potter' in this light bio-pic. It is as fluffy as the little bunnies she illustrates and writes about, which I guess is sort of the point. Even her romance with Ewan McGregor isn't produced with the melodramatic gusto I would have hoped for, though Zellweger and co-star Emily Watson give it their best shots.
These three are supported by the queens and kings of the BBC, most notably Barbara Flynn as Beatrix's insufferable mother and Bill Paterson as her father. The production values recreating Edwardian England are LOVELY as are the recreations of Potter's illustrations. The gimmick here being that they come to life for Beatrix, which is cute in a very Disney-like way, though it doesn't adequately serve the actual subject matter regarding the subtle emancipation of a woman from the 'Jane Austen School for Girls' into her own person.


And finally, the CUTEST of them all (and you know I LOATHE CUTE!) is "The Holiday" (dir. Nancy Meyers, US, 2006, 138 mins.) Yes, that's right. 2 hours and 18 minutes of Cameron Diaz being C U T E. She is so self consciously C U T E, that she fails to achieve any chemistry with anyone she shares the screen with. Such a pity, since most of that screentime is shared with Jude Law, aka the Most Beautiful Man In Motion Pictures, aka the NEW Cary Grant. In fact, as I watched this thing slowly drag it's celluloid cuteness across the screen, I imagined that it was written for the 'new Cary Grant' and 'Katherine Hepburn', which Diaz most certainly is NOT. Catherine Keener might have been a better choice, though a bit of a tough physical match to Law, perhaps, but I digress. The ONLY way I was able to get through this thing WITHOUT walking out were the performances of Kate Winslet and Jack Black. They were put in the unenviable positions as the 'character-couple' versus the 'romantic couple' (Diaz-Law). I LONGED for the moments when Winslet and Black would break the monotony (ohmigod! One of the WORST slo-mo-prancing-around-the-manor montages EVER!) of the Diaz-Law plotline. Oh, yes, Cameron, you are the CUTEST one of all! I. LOATHE. CUTE.