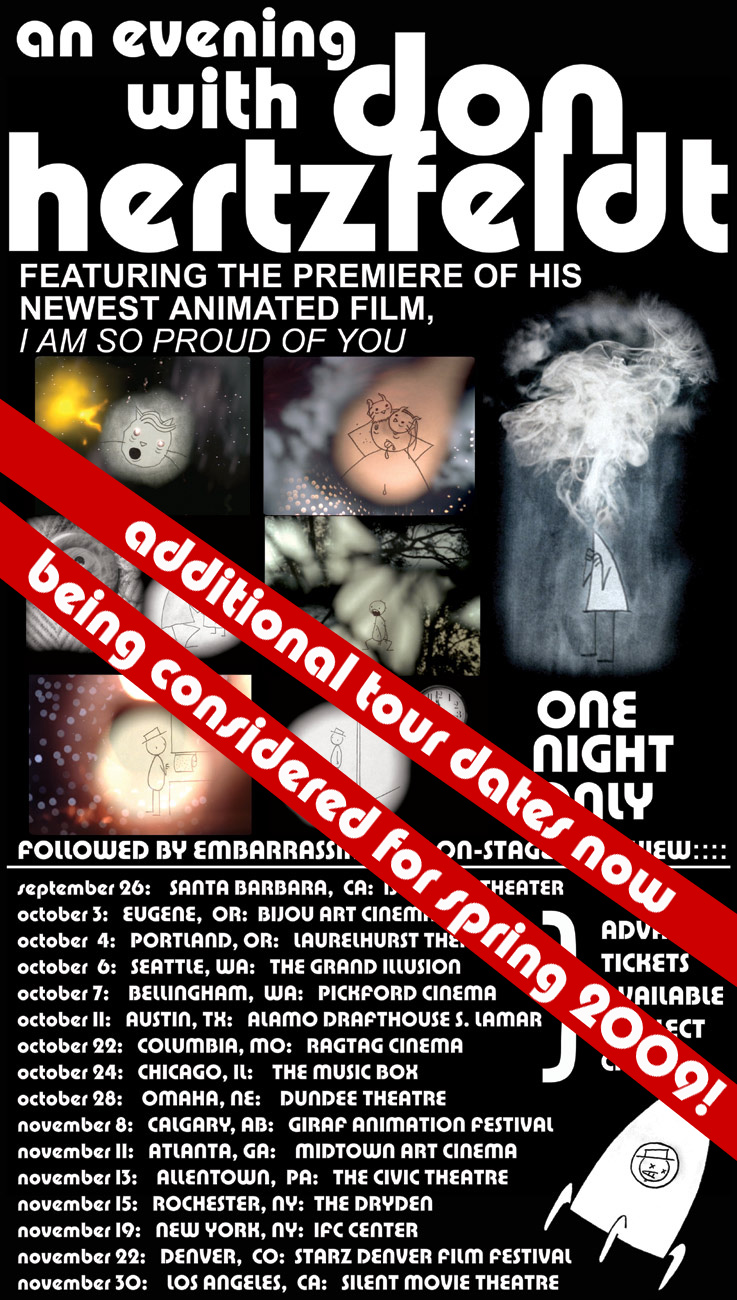 ASIFA-ATLANTA PRESENTS AN EVENING WITH DON HERTZFELDT
NOVEMBER 11th, 2008, 9:00 PM
AT THE LANDMARK MIDTOWN ART CINEMA
931 MONROE DRIVE, ATLANTA, GA 30308

ATLANTA, GA - ASIFA-ATLANTA, a chapter of the Association Internationale du Film d'Animation, is thrilled to announce it has been able to bring AN EVENING WITH DON HERTZFELDT to Atlanta! This one night only event will be presented at the Landmark Midtown Art Cinema, on Novmber 11, 2008, at 9:00 PM.

Cult animator and Academy Award nominee Don Hertzfeldt (the Meaning of Life, Rejected, Billy's Balloon) hits the road this fall for a rare series of one-night-only events: A selection of Don's classic animated shorts return to the big screen, culminating in the exclusive regional premiere of his newest film, I am so proud of you. His longest piece to date, I am so proud of you is the eagerly anticipated second chapter to Everything will be OK, winner of the Sundance Film Festival's Jury Award in Short Filmmaking and named by many critics as one of the "best films of 2007". The screening will be immediately followed by a live on-stage interview and audience chat with Don Hertzfeldt. We can't stress this enough: One night only!

Advance tickets are available for $10 at the Landmark Midtown Art Cinema website.
ASIFA-Atlanta members receive a discount and are available at www.asifa-atlanta.com as well as new memberships, which are effective immediately and offer the members' price.

Unofficially the first review of I am so proud of you
"....a f***ing masterpiece. I can't even begin to articulate my thoughts about the film but it just gave me shivers and I wasn't able to attend the party after the screening. Just had to be alone. It had this effect on a number of other people here too.... stunning, beautiful, tragic, absurd work." - Chris Robinson, artistic director Ottawa International Animation Festival

You can find out more about Mr. Herzfeldt and his projects at: www.bitterfilms.com.

ASIFA-Atlanta is quickly becoming the foremost animation community builder in the Southeast. "ASIFA" stands for Association Internationale du Film d'Animation and was founded in France in 1960 as a membership organization devoted to encouraging animation. Our goal is to bring together people who are interested in animation and to give them a forum to share ideas, experiences, knowledge and, most importantly, animation! For more information, please visit: www.asifa-atlanta.com



Maxxxxx says
re Don Hertzfeldt: "I love you!"