This year's internationally renowned showcase for lesbian, gay, bisexual and transgender (LGBT) cinema runs June 17-27, with San Francisco screenings at the historic Castro Theatre (429 Castro Street), Roxie Theater (3117 16th Street) and the Victoria Theatre (2961 16th Street), and in Berkeley at Rialto Cinemas Elmwood (2966 College Avenue).Tickets for Frameline34 are on sale through www.frameline.org.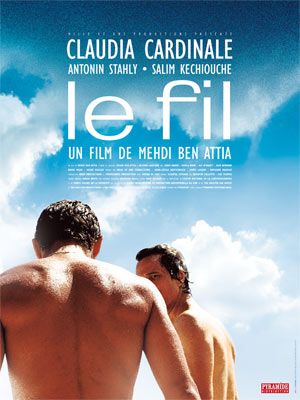 I only popped out for a double-feature of sorts tonight.
The String [Le Fil]
(dir. Mehdi Ben Attia, Tunisia, 2010, 93 Mins.) and
Hideaway [Le Refuge]
(dir. François Ozon, France, 2009, 88 Mins.) are familial dramas, involving mothers to one extent or another. Though in THE STRING, Claudia Cardinale is given top billing for her turn as the drama queen mother whose gay son has not yet cut the "emotional string" (literally, in a series of nearly silly visuals) between them. The melodrama is played to the hilt and punctuated with a dark, foreboding minimalist score, to nearly comic effect - intentionally or not, I do not know. It is curious to have a gay drama produced in North Africa to begin with (Tunisia in this case), so the dramatic tone could be up for some debate. There is a soap opera element to it, as social class and religion gets thrown about in the mix, too. Regardless, the cast is uniformly beautiful and give charming performances - and Claudia Cardinale's wardrobe is gorgeous to look at!
In HIDEAWAY, the mother is a bit more remotely written, though she is the catalyst for the plot. The gay son is also a supporting player, as the focus is really on the unwed daughter-in-law and her pregnancy from another son who died from a heroin overdose, i.e. another bit of soap opera here. Though not played with nearly the melodrama that THE STRING is, the film is still domestically bound. I really do not have much to say or add to HIDEAWAY, as it was a harmless 90 minutes, but it is already slipping from my memory...
Maxxxxx says
re THE STRING: "Such a pretty bird!"
You can contact Maxxxxx or myself here:
JayCBird@AOL.COM