Another Hole In The Head, two weeks of sci-fi, horror and fantasy, runs June 5th through June 18th, with screenings at the Roxie Film Center, 3117 16th Street (at Valencia) and live performances and events at CellSpace (2050 Bryant) and Great Star Theater (630 Jackson). Tickets and additional info at WWW.SFINDIE.COM.

Another Hole In The Head continues at the Roxie Film Center on Saturday, June 6th, and starts with an encore screening of COMING SOON and MACHINE GIRL LITE (Machine Girl Lite is a MUST SEE!), then proceeds with some mixed results.


REEL ZOMBIES (dir. David J. Francis, Canada, 2008, 97 mins.) The premise here is a mock "making of" on the set of a zombie movie, that is being produced in reaction to the real outbreak of zombies, and eventually necessitating the casting of real zombies. Yes, that is a bit convoluted, but there is the possibility of a great time in there. Yet, for the life of me, I can not figure out why I did not enjoy this as much as I feel I should have. It even features a near brilliant appearance by Lloyd Kaufmann (Troma films!), who gives a screen test, in the producers' hopes of a bit of stunt casting. (The joke there being that it IS a brilliant bit of stunt casting!) But then, that is sort of emblematic of how cerebral the humor is in the film. It is so realistically performed that the dryness, and honesty of the cast isn't really "funny". (The performances from the production assistant/driver and the makeup artist are standouts!) There are some brilliantly staged takes that wander all over the set and production without cuts, that left me spinning! But the technical achievement in those takes overwhelms the script that is being played out. It is nearly two-thirds of the way into the film before it lands a real punch (when the zombie infestation begins to infect the cast and crew). The film is almost too clever for its own good!


It is partnered with EVERYTHING I NEEDED TO KNOW ABOUT ZOMBIES I LEARNED FROM THE MOVIES (dir. Sherezada Kent, US, 2009, 7 mins.) Three disgruntled co-workers are trapped in a dingy basement by shambling zombies. In a cute, though nearly silly in that Monty Python way, our humans attempt to work their way around them, though unnecessarily...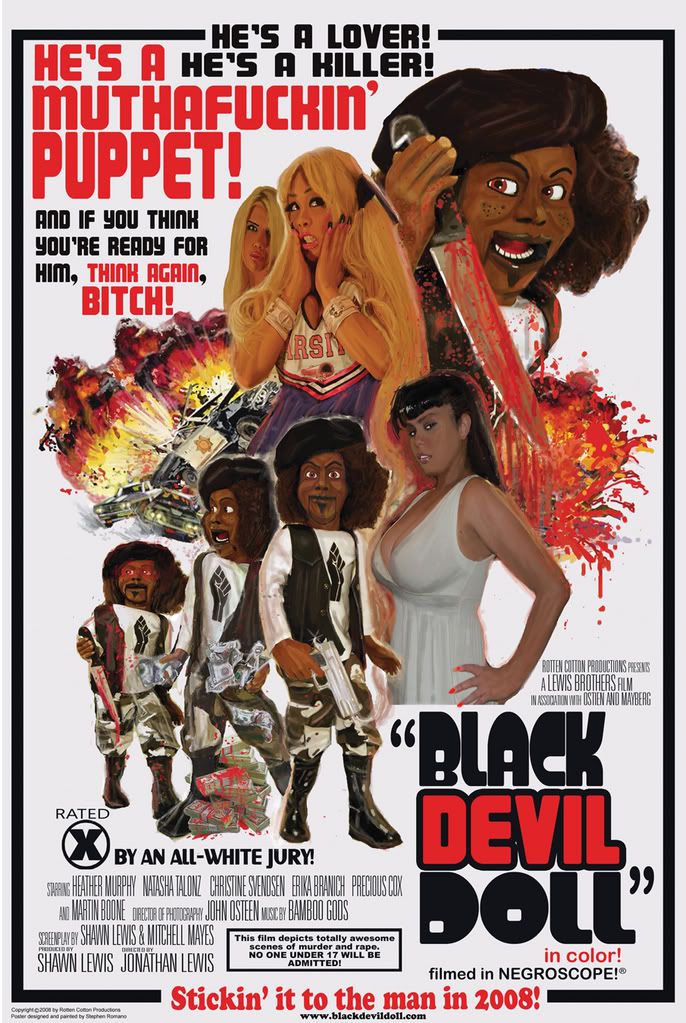 BLACK DEVIL DOLL (dir. Jonathan Lewis, US, 2009, 72 mins.) You can either LOVE this or you will HATE this. However, that is probably a good thing, in that this send up of a blackxploitation, voodoo doll comedy pulls NO punches in its raunchy self awareness. The women that the filthy mouthed black puppet is stalking are presumably porn actresses. The cast of victims, for those of you who might know and/or be interested, includes: Natasha Talonz (5'2" and FF), Christine Svendsen, Precious Cox, Erika Branich and introducing Heather Murphy. I did not catch who performs the voice of Black Devil Doll (aka Mubia Abul-Jama), but he doesn't quite reach the pornographic extremes that Mercedes McCambridge did in THE EXORCIST. (I have a feeling I may have just slapped down the gauntlet!) The soundtrack is remarkably faithful to the 80's funk, by Giallos Flames, "a group of bad ass musicians putting the soul back into soundtracks & the funk back onto film". The film joyfully wallows in sexist and racist epitaphs! So, if you're up for an hour or so of good, filthy jokes, you ought to catch this! (Since it is locally produced, director Jonathan Lewis is expected to be present for all three screenings, including the "official closing night" screening.)

(It is accompanied by THE PICK UP (dir. John Carchietta, US, 2009, 26 mins.) which was unavailable for preview, as of this writing.)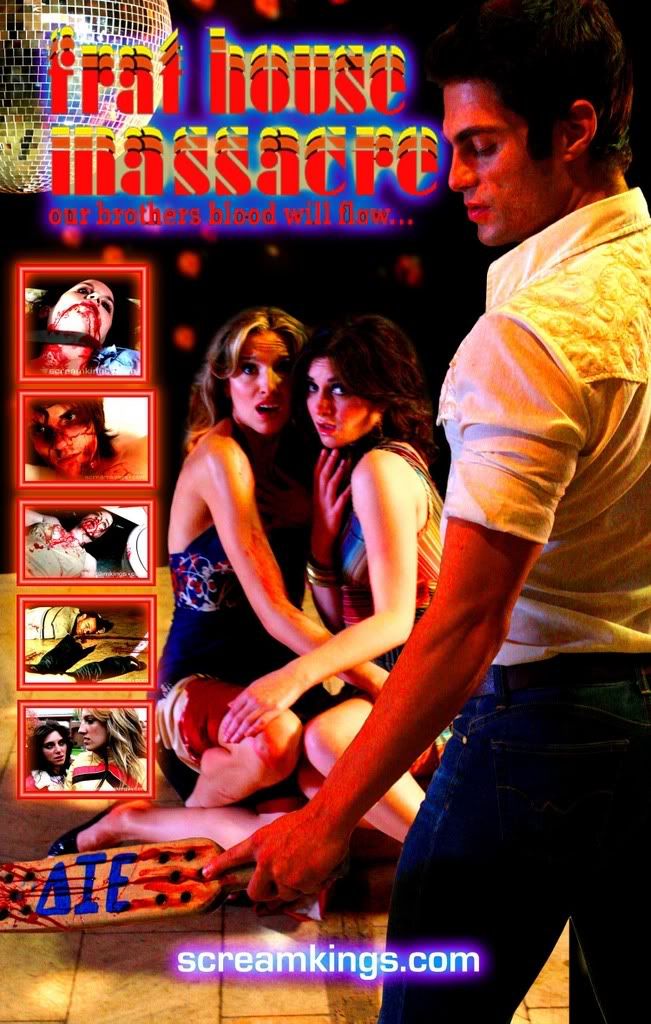 The day concludes with another homage to slasher flicks of yore, with FRAT HOUSE MASSACRE (dir. Alex Pucci, US, 2008, 117 mins.). A whole cast of sadistic frat boys and their "mean girl" sorority sister girlfriends are dispatched in an eventual bloodbath. The pacing is actually pretty good, which hides the inconsistent script. (I'm still not sure where or why it goes where it does by the finale.) The cast is, frankly, sort of hot, in that 20's slasher way. The production values nearly perfectly capture the early 80's (with the exception of hairstyles), as does the soundtrack. Oh, yes, disco and slashers! What more could you ask for in a midnight movie? The film is best to be enjoyed at this hour, so I would recommend catching it at THIS screening and not at one of its encores later in the festival.


Maxxxxx says
re BLACK DEVIL DOLL: "Shhhhhhhit!"